This week on The Digital Story Photography Podcast: Arca Swiss Love, Olympus Air First Impressions, Ringo Starr Publishes a Book of Photos - all of this and more on today's show with Derrick Story.
Weekly Update - "Seeing the unseeable: Fujifilm releases infrared version of its flagship X-T1 camera". Imaging Resource reports: "Fujifilm has thrown the photography world a curveball. Today, the Japanese photography company introduced an infrared version of its flagship X-T1 mirrorless camera, the X-T1 IR.
Similar in every other regard to its sibling, the X-T1 IR's sensor captures different light from the electromagnetic spectrum, including ultraviolet, infrared, and visible. Specifically, Fujifilm states it captures between 380nm to 1,000nm, much more than the human eye (approximately 390 and 700nm) or other sensors are capable of capturing.
In other news... "Ringo Starr Talks to Conan About His Photos During the Beatles Years" PetaPixel reports: "Earlier this year, former Beatles drummer Ringo Starr made an appearance on Conan O'Brien's late night talk show. One of the subjects discussed during the interview was Starr's new photo book, titled Photograph, which contains rare and unseen photos captured by Ringo during his childhood, his years in The Beatles, and beyond. In the 2.5-minute clip above, Ringo shares about a few of the photos in the book, which will be released on September 21st for $35."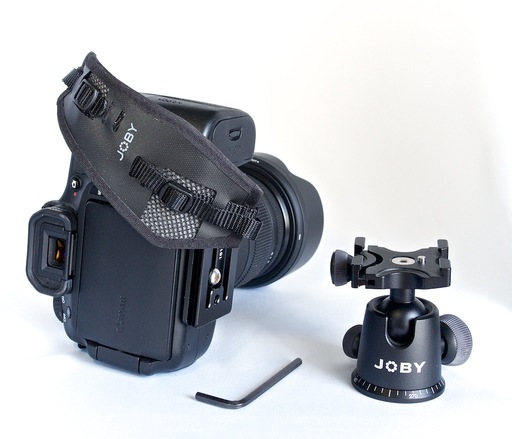 Story #1 - "Arca Swiss Love" -
I now have Arca Swiss compatible heads on all of my tripods. For my sticks that didn't originally ship with these plates, I've replaced the heads with Joby Ballhead X ($59) that has panning adjustment in addition to the bullhead itself. My latest tripod, the Induro Grand Turismo ships with an Arca Swiss compatible head that's absolutely wonderful.
Then, for added convenience, many of my cameras have Arca plate type grips, so I don't even have to attach a QR plate to mount the camera. For my DSLRs, I use the Joby UltraFit Hand Strap with UltraPlate ($35), so I can slide the camera into the tripod mount at any time. For the Olympus E-M5 Mark II, I use the Olympus External Metal Grip ECG-2 ($149) that is totally Arca Swiss compatible. I explain the details of this approach in today's first feature story.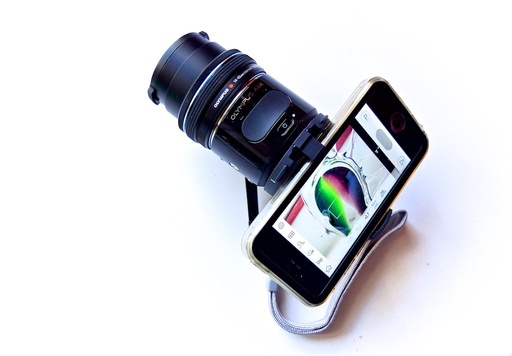 Story #2 - The Olympus Air A01 First Impressions - I've just spent the afternoon playing with the new Olympus Air 16MP MFT smartphone camera. And I have to say, it's a blast. Highlight features include:
Terrific image quality
Accepts the entire MFT lens catalog
Up to 1/16,000 second shutter speed at 10 frames per second
Fast connectivity and good realtime performance with my iPhone 5S
Excellent mounting system, very comfortable to hold
Tripod socket and wrist strap included
Nice selection of iOS apps available with lots of features
Feels like a real camera
Reasonable $299 price tag
There are a few compromises because of the super compact size. There's no sensor based stabilization, but you can use optical stabilization with Panasonic lenses. And you don't get the state of the art electronic sensor cleaning that you do with other Olympus cameras.
But I have to say, those compromises seem small compared to what you do get with this incredible little camera. More on this in the second feature of today's show.
Story #3 - From the Screening Room - Photoshop CC Essential Training (2015) with Julieanne Kost.
You can watch Julieanne in action by visiting the TDS Screening Room at lynda.com. While you're there, you can start your 7 day free trial to watch all of Julieanne's movies, plus every other title in the library.
Virtual Camera Club News
Fall Color with Safari West: October 23-25, 2015 - Sonoma County has rolling hills covered in vineyards, beautiful trees, and gorgeous blue skies. What a prefect place to shoot Fall color and bolster your landscape library. But there's more. We include environmental portraiture with a professional model, and an exclusive African wildlife photo adventure at Safari West, led by a professional photographer, plus a few surprises. This is our longest running workshop of the season, and for good reason. Two full days plus pre-workshop reception, breakfast and lunch, excellent swag, professional model, private Safari West adventure with a pro photographer guide - all included for just $599.
Thanks to everyone who recently reviewed the TDS Podcast in iTunes!
BTW: If you're ordering through B&H or Amazon, please click on the respective ad tile under the Products header in the box half way down the 2nd column on thedigitalstory.com. That helps support the site.
Download the Show - MP3 Version
In addition to subscribing in iTunes, you can also download the podcast file here (35 minutes - MP3 version). You can support this podcast by purchasing the TDS iPhone App for only $2.99 from the Apple App Store.
More Ways to Participate
Want to share photos and talk with other members in our virtual camera club? Check out our Flickr Public Group. And from those images, I choose the TDS Member Photo of the Day.
Podcast Sponsors
lynda.com - Learn lighting, portraiture, Photoshop skills, and more from expert-taught videos at lynda.com/thedigitalstory.
Red River Paper -- Keep up with the world of inkjet printing, and win free paper, by liking Red River Paper on Facebook.
SizzlPix! - New 5k Ultra High Definition SizzlPix output for your photography. You've never seen your imagery look so good. SizzlPix.com.
Want to Comment on this Post?
You can share your thoughts at the TDS Facebook page, where I'll post this story for discussion.