Whether you're a Lightroom user tired of waiting for your images to load, or you're just trying to pull together thousands of photos on an external drive, OnOne's Perfect Browse 9.5 can peer into any folder of pictures, then add star ratings, color labels, and metadata that can be read by most photo management applications.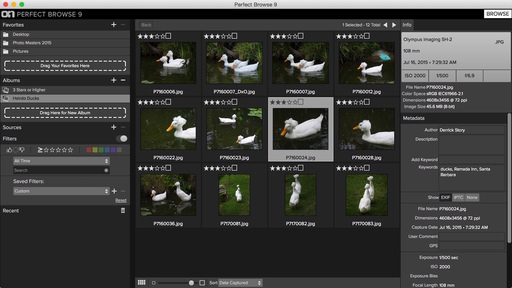 Its highlight feature is speed. Point the application to a folder of pictures and they pop on to the screen. No task bar to meter how long before you see the shots.
Once there, star ratings are easy to apply by pressing the corresponding number key, then pressing an arrow key to move to the next thumbnail. Want a bigger view? Press the spacebar. Once you've gone through the pictures once, use the filter tool to narrow the field. You can then send the best shots to Lightroom (or anywhere else) for management and editing, or put them in an album with in the app itself. Lots of flexibility; lots of speed.
You can purchase Perfect Browse 9.5 as a standalone app or part of Perfect Photo Suite, which is currently a good deal at $99.95. It's fast, friendly, and a great tool to help you get a handle on things.
Want to Comment on this Post?
You can share your thoughts at the TDS Facebook page, where I'll post this story for discussion.