This week on The Digital Story Photography Podcast: Is the U.S. Ready for the Canon EOS M3?, Be Kind to DSLR Shooters, 39 MP Jpegs with the Sigma DP1 Quattro, Is Apple the Most Important Camera Company? - all of this and more on today's show with Derrick Story.
Weekly Update - "Thinking Outside the Square: Support for Landscape and Portrait Formats on Instagram" Instagram reports: "Today, we're excited to announce that -- in addition to square posts -- you can now share photos and videos in both portrait and landscape orientation on Instagram. Square format has been and always will be part of who we are. That said, the visual story you're trying to tell should always come first, and we want to make it simple and fun for you to share moments just the way you want to. It turns out that nearly one in five photos or videos people post aren't in the square format, and we know that it hasn't been easy to share this type of content on Instagram."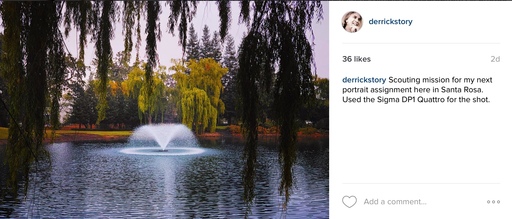 In other news, PetaPixel posts: The One Thing Apple Understands is Photography - "Photos and video are the currency of social media. The iPhone prints this currency. There are better smartphone cameras, but not a better ecosystem. And if the rumors are true, the iPhone 6s will continue to trailblaze with a 12MP camera, 4K video, and who knows what other behind-the-scenes improvements to its processing algorithm.
Traditional camera manufacturers can try to evolve, but they are at a distinct disadvantage by not being Internet-enabled devices. Imagine if your Nikon or Canon point and shoot could run Instagram and wirelessly connect to the Internet. Would a material percentage of 2014's 1.5 billion smartphone purchasers choose these dedicated cameras? Very possibly enough to alter the downward growth trajectory."
Story #1 - Is the U.S. Ready for the Canon EOS M3?
Earlier this year, when Canon released the EOS M3 mirrorless camera in Europe and Asia, some wondered why not a worldwide rollout including the United States? Well, in October, that changes. The EOS M3 is coming to the U.S. Now the question is, is the U.S. ready for the M3? I explore this topic in the first feature of today's show.
Story #2 - "39 MP Jpegs with the Sigma DP1 Quattro"
I've been testing the Sigma DP1 Quattro that has a 28mm equivalent with a maximum aperture of f/2.8, 9 blades, and 9 elements in 8 groups. The DP1 features a 14-bit, 19.6 MP X3 APS-C Foveon sensor that captures its information using a three-layer design. This is a different approach than the mosaic Bayer filter other cameras use to interpolate the color. And when I look at the processed RAW files from the DP Quattros, I do notice a film-like difference in color and gradation.
Because of the 3-layer Foveon design, you can create 39.3 MP Jpegs at a crazy resolution of 7680 x 5120. If you want to capture in RAW, then the DP1 allows in-camera processing to make 39.3 MP Jpegs from those RAW files. I explain more in today's second feature story.
Story #3 - From the Screening Room - Up and Running with Google Photos with Nick Brazzi.
You can watch Nick in action by visiting the TDS Screening Room at lynda.com. While you're there, you can start your 7 day free trial to watch all of Nick's movies, plus every other title in the library.
Story #4 - Mastering the Olympus OM-D E-M5 Mark II - A new 528-page guide by Darrell Young and James Johnson cover every feature of this superb mirrorless camera by Olympus. You can get 40 percent off the eBook price by using discount code: omdm540 at www.rockynook.com.
Virtual Camera Club News
Notice from Red River Paper - For years, 60lb. Pecos River Gloss has been your best choice for glossy inkjet printable card stock. Its smooth glossy surface and plain paper back make it uniquely suited for printing greeting, note, and thank you cards.
Due to issues with the source paper mill - base stock and coating inconsistency - we have chosen to discontinue 60lb. Pecos River Gloss. We feel you deserve the best in terms of quality and consistency. Therefore, the current stock of 60lb. Pecos River Gloss will be the last available.
Because 60lb. Pecos River Gloss is such an important product, a replacement is on the way.
Fall Color with Safari West: October 23-25, 2015 - Sonoma County has rolling hills covered in vineyards, beautiful trees, and gorgeous blue skies. What a prefect place to shoot Fall color and bolster your landscape library. But there's more. We include environmental portraiture with a professional model, and an exclusive African wildlife photo adventure at Safari West, led by a professional photographer, plus a few surprises. This is our longest running workshop of the season, and for good reason. Two full days plus pre-workshop reception, breakfast and lunch, excellent swag, professional model, private Safari West adventure with a pro photographer guide - all included for just $599.
Thanks to everyone who recently reviewed the TDS Podcast in iTunes!
BTW: If you're ordering through B&H or Amazon, please click on the respective ad tile under the Products header in the box half way down the 2nd column on thedigitalstory.com. That helps support the site.
Download the Show
In addition to subscribing in iTunes, you can also download the podcast file here (34 minutes). You can support this podcast by purchasing the TDS iPhone App for only $2.99 from the Apple App Store.
More Ways to Participate
Want to share photos and talk with other members in our virtual camera club? Check out our Flickr Public Group. And from those images, I choose the TDS Member Photo of the Day.
Podcast Sponsors
lynda.com - Learn lighting, portraiture, Photoshop skills, and more from expert-taught videos at lynda.com/thedigitalstory.
Red River Paper -- Keep up with the world of inkjet printing, and win free paper, by liking Red River Paper on Facebook.
SizzlPix! - New 5k Ultra High Definition SizzlPix output for your photography. You've never seen your imagery look so good. SizzlPix.com.
Want to Comment on this Post?
You can share your thoughts at the TDS Facebook page, where I'll post this story for discussion.