There's a difference between documenting key moments in our lives and selfies. I'm thinking about the distinction because I just finished helping one of my boys move in to his dorm room at Santa Clara University.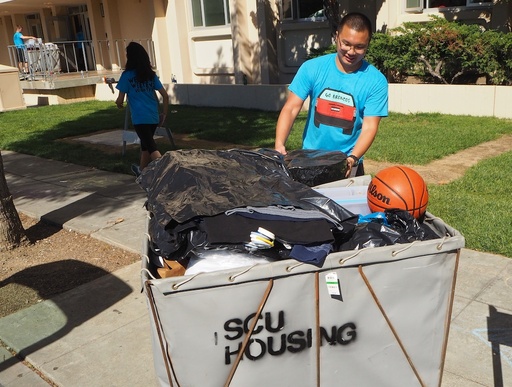 Move In Day, SCU - With the help of a SCU student volunteer, we emptied the car into these large roller bins and went up to the 5th floor of Max's new home, a residence hall on campus.
Not once during the day did I pull out my iPhone, grab my boy, and force a self portrait of the two of us. This event wasn't about me. It was Max's moment. Along with hundreds of other great kids, he was leaving home for the first time and starting the next chapter of his life. My job was to help him do that.
Along the way, I did quietly take pictures. I documented the event as a story. I have him packing the car, standing in the middle of a disheveled dorm room, and wandering the aisles of Target getting a few last minute items we forgot.
I didn't make a big thing about the images. I captured them as I would a reporter on assignment, trying not to interfere with the event itself.
These photos are important to me. And I hope that some day Max will find them interesting too. Maybe after he's well along his career path and raising a family, he'll want to see images from his first day away from home.
I have nothing against selfies. We shoot them all the time. We have a family selfie in front of the Eiffel Tower that is one of my favorite shots on the fireplace mantle.
But there's a time and a place for everything, and this applies to photography too. And yesterday, the story was about Max, not his dad. And I hope that my pictures reflect that.
Want to Comment on this Post?
You can share your thoughts at the TDS Facebook page, where I'll post this story for discussion.