This week on The Digital Story Photography Podcast: Top 10 Things I Like with the iPhone 6S, Zenfolio for Working Photographers, My iPhone Upgrade Program Experience - all of this and more on today's show with Derrick Story.
Weekly Update - DP Review reports: Phottix launches Laso Transmitter and Receiver for Canon flashes: "Phottix has launched its Laso Flash Trigger System today for the Canon RT Wireless radio flash system and the camera maker's non-radio E-TTL flashes. The Laso Transmitter can be used with up to 15 radio flashes in five groups, while the Laso receiver enables the setup to be used with non-radio E-TTL flashes. The Phottix Laso Receiver is available now for $99.95 USD from B&H Photo.
The Laso Transmitter can be used to trigger non-radio E-TTL flashes with the Laso Receiver; photographers can also use the Canon ST-E3-RT flash transmitter or similar devices instead of the Laso Transmitter if desired. The transmitter supports a variety of flash modes, including Manual, Ext.A, MULTI, Linked Shooting and E-TTL II/E-TTL. The receiver, meanwhile, supports studio lights in addition to non-radio flashes for incorporating them into a triggering system. The Phottix Laso Transmitter is available for $159.95 USD."
In other news, "How the iPhone 6S Camera Compares to All Previous iPhones" Petapixel reports: "One of the big improvements in the new iPhone 6S and 6S Plus are the new camera modules, which now shoot 12-megapixel photos. If you'd like to see how the new camera stacks up to its entire line of predecessors, Camera+ co-founder Lisa Bettany has published a series of side-by-side comparison images showing the same scenes captured with each camera."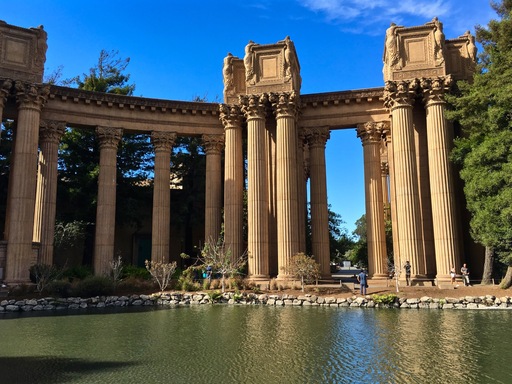 The Palace of Fine Arts in San Francisco. Image captured with an iPhone 6S, automatically saved to Photos and backed up in iCloud. Image by Derrick Story.
Story #1 - "Top 10 Things I Like with the iPhone 6S - My Review"
I've upgraded from an iPhone 5S to 6S, and the differences between the devices are distinct. Here are the things that have jumped out at me.
Improved screen. Larger size 4.7" or 5.5", 3D Touch, different resolutions (Display Zoom) - the viewing experience is better than ever.
New 12-megapixel iSight camera with A9 processor. (Beautiful pictures!) Every pixel in the sensor has been reengineered to prevent crosstalk between the sub pixels, meaning we could fit a lot more pixels in the sensor for a sharper photo that has less noise and truer color.
Live Photos. Some might call this a gimmick, but I really like it. Water shots are the coolest.
Touch ID that really works.
Low Power Mode.
Selfie Flash via Retina Display
4K Video - have to turn it on. 1080p is the default.
Take 8MP still photos while recording 4K video.
AirPlay faster and more responsive than ever.
iPhone Upgrade Program - unlocked phone plus AppleCare.
Story #2 - Zenfolio for Working Photographers
Zenfolio is a new sponsor of The Digital Story, and I want to introduce you to them today. They are a portfolio and online client proofing website. Based on my testing, you can be up and running in 30 minutes. The service is perfect for photographers shooting weddings, senior portraits, and business events. The tools and design are fantastic.
One of the coolest features is the Photo Moments app for Android and iOS. It allows your clients to instantly gain access to their digital photos, view them in a beautiful presentation, download to their device and share with others. Users simply open the app, add their gallery, and their images become instantly accessible for client viewing--anytime, anywhere. Sophisticated features include: Option for the photographer to disable photo downloads for extra protection, gallery password protection, gallery expiration dates, watermarking options, and plenty more.
You can learn more about Zenfolio by visiting their site, www.zenfolio.com. You can sign up for a 15-day free trail. And if you like what you see, prices start at only $60 a year. If you want your site to look as good as your photos, visit Zenfolio today.
Story #3 - iPhone Upgrade Program
For this iPhone, I made an appointment with my local Apple Store so I could enroll in the iPhone Upgrade Program. Here's the story of how it went.
The details look like this: iPhone 6S 64GB ($749) plus two years of AppleCare ($129) Sales tax ($65.54). Total $943.54
My first installment plus tax is $102.12. Then after that, it's $36.58 a month for 24 months. 0% interest. I can upgrade when the next iPhone comes out. Or I can pay off the 6S and keep it. The phone is unlocked. AT&T has acknowledged the new phone, and I don't see any additional charges for going this route.
Virtual Camera Club News
A Word from SizzlPix
The 5k Ultra High Definition SizzlPix is the upgrade now in general release on all orders, so you can display your best photography in sizes from 18-inches to 6-feet with resolution and realism one expects only from the small screens on handheld phones and pads. SizzlPix clients say, contrary to expectation, resolution seems to increase as their photos grow larger!
SizzlPix invites photographers to order a print from the assembly-line plants, and a 5k Ultra High Definition SizzlPix from the same image. Compare them side by side. They've never ONCE had a client declare they liked the mass-produced print better. If yours is the first, you may return your SizzlPix for a full refund!
Note from Red River Paper - Red River Paper is proud to be exhibiting at the PDN PhotoPlus International Conference + Expo, October 22-24, at the Javits Center in New York City, and we hope to see you there. Look for them in booth 1158. And if you don't have a Expo pass yet, you can get one for free from RRP.
Thanks to everyone who recently reviewed the TDS Podcast in iTunes!
BTW: If you're ordering through B&H or Amazon, please click on the respective ad tile under the Products header in the box half way down the 2nd column on thedigitalstory.com. That helps support the site.
Download the Show
In addition to subscribing in iTunes, you can also download the podcast file here (38 minutes). You can support this podcast by purchasing the TDS iPhone App for only $2.99 from the Apple App Store.
More Ways to Participate
Want to share photos and talk with other members in our virtual camera club? Check out our Flickr Public Group. And from those images, I choose the TDS Member Photo of the Day.
Podcast Sponsors
lynda.com - Learn lighting, portraiture, Photoshop skills, and more from expert-taught videos at lynda.com/thedigitalstory.
Red River Paper -- Keep up with the world of inkjet printing, and win free paper, by liking Red River Paper on Facebook.
SizzlPix! - New 5k Ultra High Definition SizzlPix output for your photography. You've never seen your imagery look so good. SizzlPix.com.
Zenfolio If you want your site to look as good as your photos, visit www.zenfolio.com today.
Want to Comment on this Post?
You can share your thoughts at the TDS Facebook page, where I'll post this story for discussion.