I'm getting ready to head out the door for a "day into evening" trip to Oakland, CA. As I'm doing so, I'm reminded once again why I'm so dedicated to nimble photography: I hate leaving stuff in the car.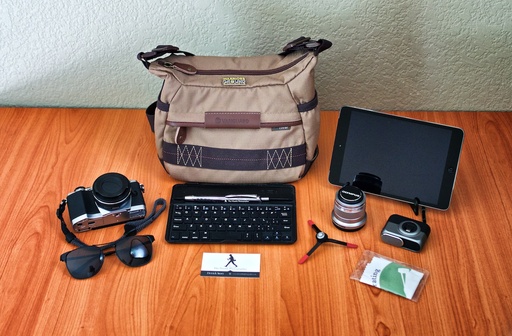 This kit comes with me and has everything I need for the day. Photo by Derrick Story.
As far as I'm concerned, nothing good can come from leaving electronics in a parked automobile. First, there's the heat. In California, that's an issue. We're still "enjoying" weather that tops 80 degrees, which means considerably higher temps in a locked-up car - not really ideal conditions for your electronics.
Even more importantly, possible theft is an issue. I have a sizable investment in my Apple and camera hardware that's stuffed into my daily Lowepro backpack. Leaving it unprotected in an automobile is not good for my business nor peace of mind. Traveling with a much lighter kit just makes more sense.
And finally, I enjoy traveling light. Having everything I need for the day packed neatly in a small, nondescript bag that doesn't attract attention and gives me a real sense of freedom.
Take today as an example. I have a meeting in Oakland this afternoon. Then I'll probably enjoy a little street shooting, finished off by attending the Warriors game at Oracle Arena. In between those events, I'll find a Starbucks for a caffeine pick-me-up and the opportunity to answer email and check what's going on with my sites.
To ensure that nothing gets left behind in the car, I have to pack to the lowest dominator, which is bag size allowed into Oracle Arena (14" x 14" x 6"). At first this may seem daunting, but my city kit is actually smaller than the arena requirements. Here's what I pack:
Vanguard Havana 21 shoulder bag - 11" x 7" x 5" (I also use the Nimble Shoulder Bag about half the time, depending on the gear inside).
Olympus OM-D E-M10 camera with 14-42mm compact zoom and 45mm f/1.8 telephoto
iPad mini with Bluetooth keyboard
DxO ONE camera (that connects to my iPhone 6S or iPad mini)
Accessories including earbuds, spare battery, SD card, mini tripod, microfiber cloth, nimble stylus pen, business cards, and an USB cable.
I keep a power adapter in the car if I need to charge anything during transit. I get a ton of work done with this kit, and never have a problem with venue access. And the only time it's in the car is when I'm there too.
---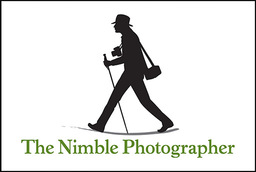 This kit has a high Nimbleosity Rating. What does that mean? You can learn about Nimbleosity and more by visiting TheNimblePhotographer.com.