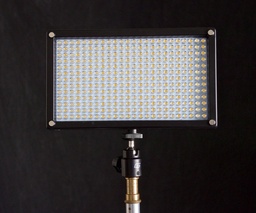 Once you've used a flicker-free, variable-color LED light panel, it's hard to go back to the single temperature models. Thankfully, as prices come down, you don't have to.
Case in point is the Genaray 7100T Variable-Color LED panel that's currently available for $189. Its feature set includes:
3200-5600K Adjustable Color Temperature
Up to 1400 Lux Brightness at 3 feet
100-10 percent Flicker Free Brightness Dimmer
Smooth, Stepless Color/Brightness Dial
Dual Sony L Series Battery Mount (NP-F550 type)
Two Batteries, Charger, AC Adapter included in the kit
Magnetic, Snap-On Diffuser
Ball Head and Carry Case
The maximum output from the 312 LED bulbs is 1400 Lux at 3 feet - plenty bright for most indoor applications. The case is made of plastic, so you will have to be somewhat careful when transporting it and using it on location.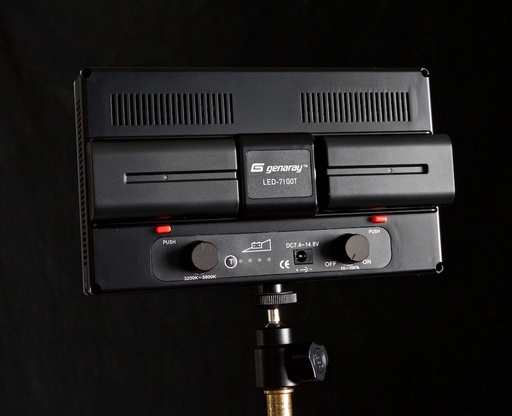 The back panel controls are good and work well. There's the color temp knob on the left that allows for adjustment from 3200 K to 5600K. The battery status can be checked by pressing the raised "T" button. And the rotating luminance dial is adjustable from 10-100 percent.
I like the dual battery configuration, which allows for smaller units that are balanced on both side of the Genaray. The bulbs will power with just one battery, and you can swap out either one without have to power down. This seems particularly handy during long shoots and video recording when you need to leave the light on.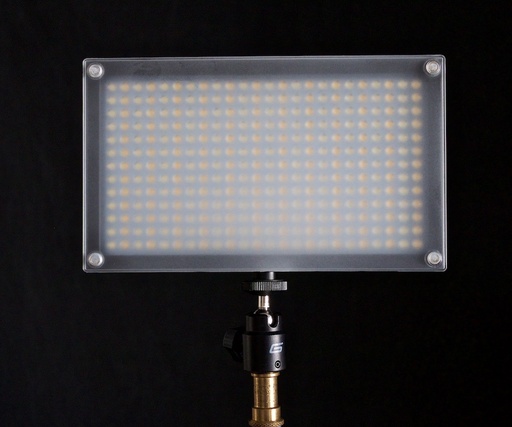 Another clever design feature is the diffusion panel that attaches with magnetic contacts. It locks into place snugly and stays secure during use, but it's easily removed when necessary. There's a secure pocket inside the top flap of the case to store the panel when not in use.
The best part is, however, variable color adjustment. I'm getting to the point where I can eyeball the color temperature I want. I love the control of being able to dial the control a little cooler for techy product shots, then warm things up for portraits. When used in tandem with my Dracast LED500 Pro Bi-Color LED Light, I have tremendous control over configuring both the luminance and the color for a scene.
My only real nits have to do with the mounting. The 1/4" threaded socket in the bottom of the unit doesn't feel that solid. It's not confidence inspiring, if you know what I mean. So far, there haven't been any problems, but I could see it breaking away from the case during an accidental tumble. And the cheapo ball head that's included could certainly use an upgrade.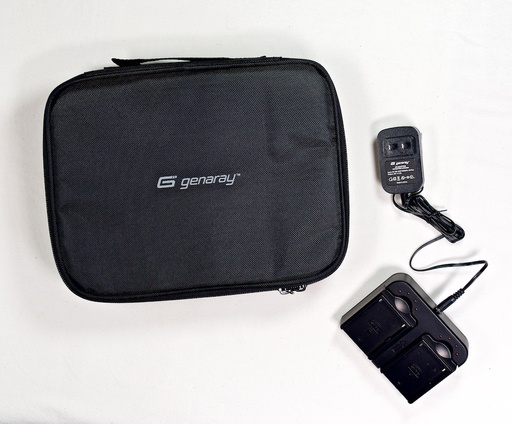 Aside from the mounting complaints, the Genaray 7100T Variable-Color LED panel is a handy, versatile lighting unit that includes lots of accessories and is a good value at $189.
The Nimbleosity Report
Do you want to keep up with the best content from The Digital Story and The Nimble Photographer? Sign up for The Nimbleosity Report, and receive highlights twice-a-month in a single page newsletter. Be a part of our community!
Want to Comment on this Post?
You can share your thoughts at the TDS Facebook page, where I'll post this story for discussion.