The day after Thanksgiving seemed like a good opportunity for updating the firmware on my OM-D E-M5 Mark II. And as it turned out, I did need more time than I expected. But like they say on the Upgrade page: you're downloading a whole new camera.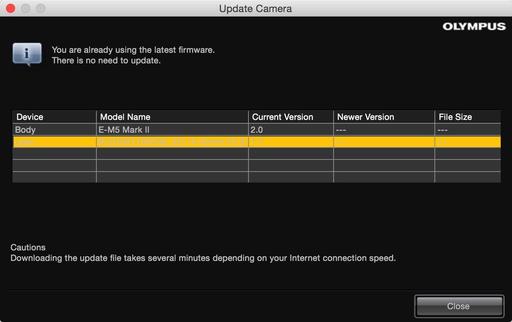 The first step is to launch the OLYMPUS Digital Camera Updater app that came with your camera (Mac or PC). You can also download it from the Olympus site. Connect the OM-D via its USB cable, and let the application walk you through the steps. Be sure to pay close attention to the prompts, and do not turn off your camera until you see the OK message on the LCD.
There are a few lenses that you might want to update at the same time. The Updater app reads the firmware for both camera and attached optic. In my case, I also needed to update the 60mm f/2.8 macro, 40-150mm f/2.8 PRO zoom, 12-40mm f/2.8 PRO zoom, and the 14-42mm EX pancake zoom. Each of these take a few minutes to update, so make yourself comfortable as you perform the operation on each one.
Once body and optics are up to speed, you'll need to reconfigure your menu settings. I reprogrammed my function buttons, added my copyright information, turned off Quick Sleep Mode (Hate that one! Gear Menu K > Quick Sleep Mode), and made sure my Jpegs were recording in SuperFine, not fine. This process takes another 15-30 minutes.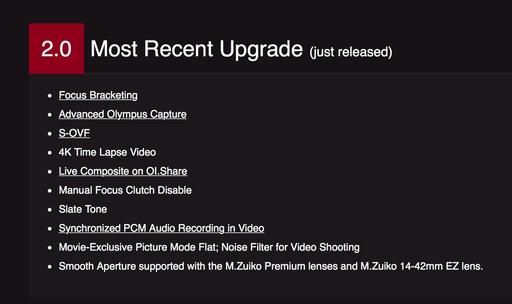 But now you get to enjoy the fruits of your efforts. As you can see by the above list, there are plenty of new goodies to play with. I reprogrammed Fn1 to enable the Simulated Optical Viewfinder (S-OVF), so I can now toggle between that view and the standard EVF rendering.
I'm also able to use Focus Bracketing (Shooting Menu 2 > Bracketing > Focus BKT ) to automatically record a series of images at different focusing points that can be composited into one sharp image in post production. I recommend the Olympus 60mm f/2.8 for this task.
4K Time Lapse Video output is also available. You can find that setting in Shooting Menu 1 > time lapse (bottom of the menu)> Time Lapse Settings > Movie Settings. This allows you to save your time lapse masterpieces in full 4K glory.
And finally, for those of you who have been befuddled by accidentally sliding your PRO lens into manual focus, you can now prevent that from happening by turning on Manual Focus Clutch Disable via Gear Menu A > MF Clutch > Inoperative.
These are my favorite improvements, but as you can see from the list, I still have more to experiment with. It does feel like a whole new camera...
The Nimbleosity Report
Do you want to keep up with the best content from The Digital Story and The Nimble Photographer? Sign up for The Nimbleosity Report, and receive highlights twice-a-month in a single page newsletter. Be a part of our community!
Want to Comment on this Post?
You can share your thoughts at the TDS Facebook page, where I'll post this story for discussion.