This is The Digital Story Podcast #504, Nov. 3, 2015. Today's theme is "We're going to make some changes." I'm Derrick Story.
Opening Monologue
There are only two directions in publishing: moving forward or falling back. In the last year, I've seen plenty of each. In the moving forward category, the team at Rocky Nook is definitely on the rise. They invested in personnel who have brought new ideas to the company, and their risks are paying off. I'm lucky enough to be part of that change, and I'm excited about the prospects for 2016.
As for falling back, I think the old Digital Story served its purpose, but I have not been feeling the passion that I want from this enterprise. So we're going to shake things up, and as of today, I'm presenting to you a new show. If you like what you hear, I want you to get behind it. So let's get to it.
It's Not a Paperweight; It's a Flash
I just finished a new eBook titled Rocky Nook's Guide to Flash Terminology. It's a free download, and in it I illustrate and explain the meaning of all those terms we hear in flash photography.
We all have these things, but I sometimes get the feeling we're too lazy to pull them out of our camera bags. Here's a scenario when I think it's worth your trouble to power up the speedlight.
Twilight Portraits. These are the coolest images. Whether you're shooting a wedding or visiting a big city, go outside at twilight, find a stunning sunset or city light backdrop, steady your camera, and make a portrait using slow synchro flash.
Don't overexpose your subject. Dial down flash exposure compensation to pull the speedlight illumination into alignment with the background lighting. These portraits can be stunning.
Get Your Training On
This week's lynda recommendation is Street Photography: The City at Night with Steve Simon. After you finish your twilight portrait, explore the mysterious side of the city with a fast lens and a sharp eye. Steve Simon will provide the inspiration and technical knowhow to help you get the most out of this adventure.
In the News
World-Famous Instagram Model Essena O'Neill Quits Social Media, stating that, "Since the age of about 15, O'Neill had cultivated an identity of false perfection that she obsessively shared with the world and filled an endless need to acquire more validation through social media. O'Neill is now reorienting her career to speak about how the creation of this fake persona that was based completely on physical appearance has had a tremendously negative impact on both the perception of her own self-worth as well as starving her from experiencing life outside social media." - FStoppers Original Article.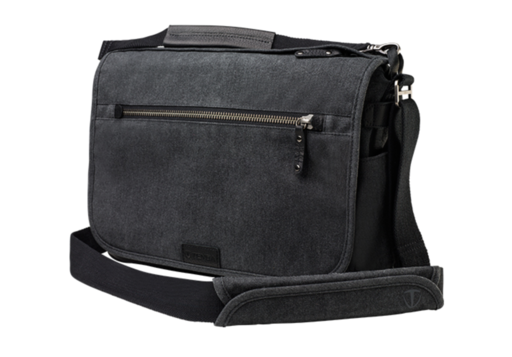 Gear We Like
The Tenba Cooper Luxury Canvas 13 Slim Camera Bag with Leather Accents ($229). The exterior features Peach-wax cotton canvas (20% polyester reinforcement) with 2x water-repellent PU coating, waterproof, full-grain leather base and accents. Inside you'll find ilicone-coated, water-repellent ripstop nylon and soft, brushed tricot. Hardware: YKK® zippers with hand-riveted full-grain leather zipper pulls. The Cooper 13 Slim accommodates a mirrorless camera with 3-5 lenses or a DSLR with 2-3 lenses (up to 70-200mm 2.8). The rear padded sleeve will hold a laptop up to 13 inches.
Support This Show
What does Jon, Christopher, Ed, Craig, Edward, Tim, Kevin, Larry, Thomas, Byron, Gary, Randall, and Sean have in common? They have pledged their support of this podcast by becoming an Becoming an Independent Online Supporter. Their support of Independent Online Publishing has helped fund our latest server upgrade to ensure that this content reaches anyone who wishes to listen. You can do your part today by clicking on the Sponsorship tab at the top of TheDigitalStory.com.
Member Quote of the Week
Intelligent comments culled from The Digital Story Facebook page.
In regard to my post, Why I Take My Bag to Breakfast, Steve Blazevich writes: "I always go straight home after I'm done shooting what I have to, I can't stand the idea of going in a store while leaving my camera bag in the car. Most times it's not practical either for me to carry everything in to a store. I should look in to a better bag." I agree Steve, get yourself a nimble bag and you won't have to rush home after a shoot.
Post your thoughts on our Facebook page. Believe me, I read them.
Software Download
Camra camera app saves photos and video directly to the cloud. The newly released Camra apps aims to make things easier by uploading images and video straight to the cloud as you shoot. The added bonus is that you can keep shooting, even if you are out of storage, as Camra never stores the files locally. A free Camra account offers up to 5GB of storage space but $0.99 a month buys you a full 100GB. If you'd like to give the app and service a closer look you can download Camra now from Google Play and the Apple App Store. Via DPConnect.
How Long Should You Let Your Inkjet Prints Dry?
Red River Paper posts in their latest newsletter: "As a general rule, you can handle and work with photo inkjet prints as soon as the come out of your printer. They are "dry to the touch" but in reality it takes about 24 hours for an inkjet print to fully cure and dry." Red River Paper is the longest running sponsor of The Digital Story.
What the Heck?
My inaugural "What the Heck?" goes to the development team at Apple responsible for Photos for OS X. Why don't you give us star ratings? Really. You've created this beautiful editing interface and integrated cloud connectivity, and yet you refuse to provide a reasonable method for enthusiast photographers to rate their images.
I'm begging you. Get off the stick and give us a front end that's deserving of the genius that we see in the other parts of the app. It's not too late. We're asking you to please give us the tools we need to do our job.
Found in the Bottom of the Bag
I've added the Walking Man Flask Set to the Nimble Photographer Store. The Eastern Sierra Fall Color Workshop holds the top spot on the TDS 2016 Workshops Reserve List. And if you plan on ordering through B&H Photo or Amazon, please stop by the TDS site first, click on their respective ad tile, then place your order. That extra step helps support the site.
See you next week!
Want to Comment on this Post?
You can share your thoughts at the TDS Facebook page, where I'll post this story for discussion.