After months of research and testing, I've settled on the applications that I'm using for my photography workflow in 2016. I thought you might be interested in my selections and why.
Overall Photo Management: Capture One Pro 9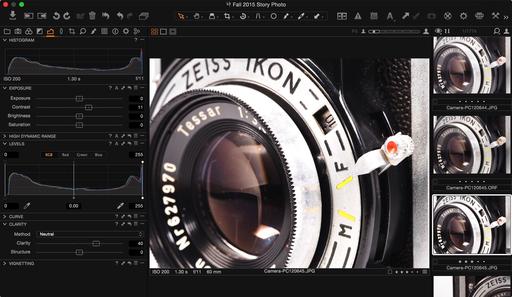 Capture One comes the closest to the robust file management that I liked so much in Aperture. Its system of folders (called Groups), projects, and albums feel right at home.
And the RAW decoding is beautiful. My images look great in this application, and there are tons of editing tools for refining them. Overall, this will be the ultimate home for my RAW files.
Pros: Great library management, excellent RAW decoding, serious editing tools.
Cons: Does not accommodate imported PSD files, very still-photo centric, not cloud connected, a serious investment at $300.
Quick Turnaround: Alien Skin Exposure X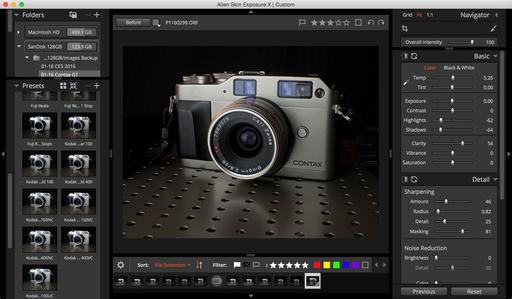 Robust photo management is great, but I have a lot of quick-turnaround jobs that I need to deliver fast. I'm really enjoying Exposure X for these scenarios. It reads the files off my memory card, puts them on my drive, then lets me star rate or add color labels, edit, and export - blazingly fast.
The adjustment sliders are terrific, and the film emulation presets are fun and creative. So not only am I working fast, the images look wonderful afterward.
Pros: Creative, great user interface, fast, lots of goodies.
Cons: Not the full featured photo management app that some photographers want, somewhat expensive at $149
Cloud Connected and Mobile: Photos for OS X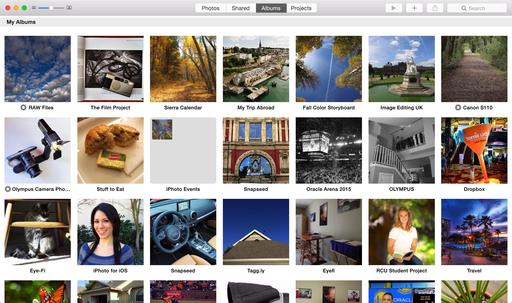 It's not the do-everything imaging app that it replaces (Aperture), but Photos for OS X is great at what it endeavors, which is connect your devices, backup your mobile shots, and provide a fun editing environment.
I shoot a lot with my iPhone, and I don't want to have to worry about the preservation or sharing of those pictures. Photos just makes it happen. I love the built-in editing tools, and what it doesn't include natively, is now being addressed by 3rd party plugins. And that implementation is terrific.
My iPhone images are easily adjusted, instantly shared, and always backed up. How could you not take advantage of this great app if you're an iOS shooter?
Pros: Easy, fast, mobile, smart, easy geotagging, and free.
Cons: Still no star ratings or color labels (ugh!), weak metadata management, not great for RAW shooters with new cameras (slow updating of RAW profiles).
Bottom Line
I know a lot of folks want just one photo application to handle all of their needs. And depending on how you shoot, that's a reasonable request. But for someone like me who's using an iPhone one moment, Contax film camera the next, Olympus mirrorless after that, then a Cannon DSLR for a commercial shoot, one app just isn't going to cut it. So these are my three for 2016.
Training and Such
For hands-on tutorials to master Photos for OS X, be sure to take a look at Photos for OS X Essential Training on lynda.com.
I have a Capture One Pro Essential Training in the works that should be out soon. Over 100 movies on using that app. Keep an eye out for it.
Don't forget about the Photos for OS X Special Feature Section on The Digital Story. It's a roundup of tutorials, videos, and articles focused on helping you master Apple's latest photo management software. You can also find it under Photography in the top nav bar.
Want to Comment on this Post?
You can share your thoughts at the TDS Facebook page, where I'll post this story for discussion.