This week I peer into the future of technology at CES in Las Vegas and report on what I discover...
Opening Monologue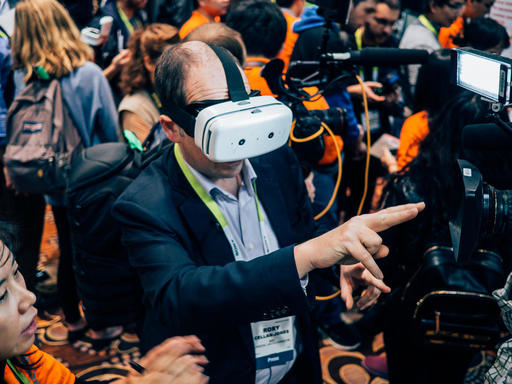 A new year tradition of recent years is to trek to Las Vegas to cover CES. Here's where I, and thousands of other journalists, have the opportunity to see firsthand the tech landscape for 2016. And that's the focus of today's show.
My 5 Favs from CES Las Vegas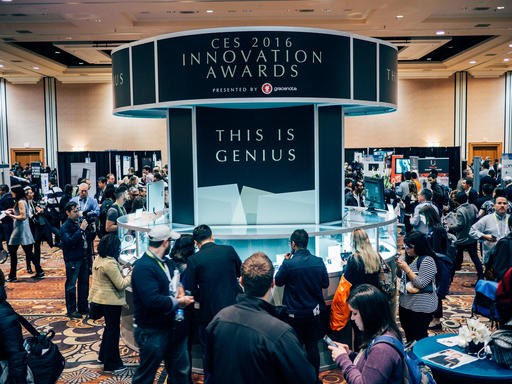 I report from CES Unveiled at Mandalay Bay in this "Notes from the Field" segment.
In the News
Amazon's best-selling camera item this holiday was... film - covered by Imaging-Resource.
While there are some staggering results, such as Amazon shipping more than 200 million items via free Prime shipping this holiday season and over three million people joining Amazon's Prime service during the third week of December, perhaps the most surprising tidbit is that Fujifilm INSTAX Mini Instant Film was the biggest-selling item from Amazon's camera department. Following the INSTAX Mini Instant Film on Amazon's best-selling camera products this holiday season are the GoPro HERO4 Silver Edition and AmazonBasics Head Strap Camera Mount for GoPro.
Virtual Post Cards from Las Vegas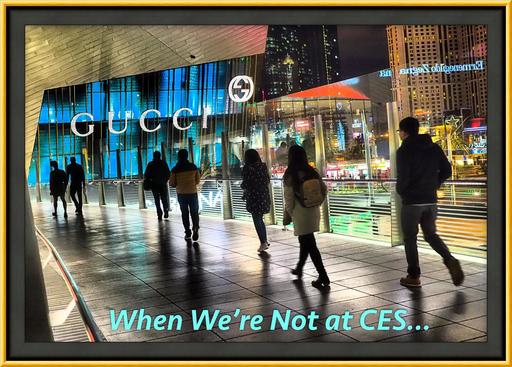 I'm on the road this week covering CES. So, since I'm in Las Vegas, I thought I'd try my hand at making a few virtual post cards for sharing images with others. ImageFramer is perfect to add the finishing touch.
Jacob has set up an ImageFramer Landing Page specifically for TDS listeners, with sweet discounts on the 3 different versions of the app. Please go over and take a look.
Products We Love: The Indigo Marble 15" Protective Camera Wrap
I've been testing the Indigo Marble 15" Protective Camera Wrap ($24.97), using it with a variety of shoulder bags while on the go. And what I like best about it is that I have the freedom to carry my gear anyway I want, and still have good protection while doing so. I explain more in this segment of the show.
Member Quotes of the Week
Intelligent comments culled from The Digital Story Facebook page.
In regard to Friday's Facebook Post: "Together we cross the bridge to 2016. Happy New Year! See you on the other side..." we had some terrific comments that I want to share it with you now.
Arron wrote: "And sometimes the path to new things looks wet and slippery, but we take it anyway :-)"
Michael added: " A very appropriate image Derrick - thanks for all your great work thru 2015 and I wish you all the very best for 2016."
Post your thoughts on our Facebook page. Believe me, I read them.
A Holiday Poem from Red River Paper
And as she made her final print,
The postman arrived in a sprint.
He had to finish his final run
Before going home for family fun.
She checked the card one last time
Just to make sure all was fine.
She had used Red River Paper
And learned to add water vapor
Because humidity helps when the air is dry,
Such as when it is cold and dampness too shy.
Her card did not curl and was perfectly flat,
A gorgeous image of a holiday cat.
Into the addressed envelope her personal card went,
And even the postman confirmed it was money well-spent.
When you need help learning all about inkjet printing,
Make Red River Paper your source from the beginning.
A thought from Red River Paper
See you next week!
More Ways to Participate
Want to share photos and talk with other members in our virtual camera club? Check out our Flickr Public Group. And from those images, I choose the TDS Member Photo of the Day.
Podcast Sponsors
lynda.com - Learn lighting, portraiture, Photoshop skills, and more from expert-taught videos at lynda.com/thedigitalstory.
Red River Paper -- Keep up with the world of inkjet printing, and win free paper, by liking Red River Paper on Facebook.
ImageFramer Take your photos to the next level with ImageFramer. Visit www.apparentsoft.com today.
MacPaw Creators of CleanMyMac 3 and other great software for Apple computers. Visit www.macpaw.com today.
The Nimbleosity Report
Do you want to keep up with the best content from The Digital Story and The Nimble Photographer? Sign up for The Nimbleosity Report, and receive highlights twice-a-month in a single page newsletter. Be a part of our community!
Want to Comment on this Post?
You can share your thoughts at the TDS Facebook page, where I'll post this story for discussion.