For only $5, you can add an exhaustive (but easy to use) collection of filters to your Photos for OS X app. The editing extension is called Color Filters for Photos, and it's worth a look.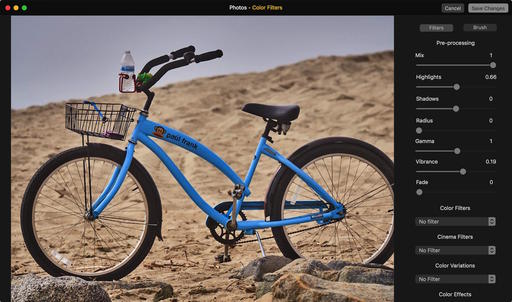 Like any Editing Extension, the easiest route is to purchase and download from the Mac App Store. In this case, Colors will only set you back $4.99. Once the download is complete, go to System Preferences > Extensions > Photos and turn on Color Filters. Now you're ready to have fun.
Open an image in Photos for OS X, then press the Return key to go to editing mode. At the bottom of the list on the right side, click on Extensions, and choose Color Filters from the popup menu.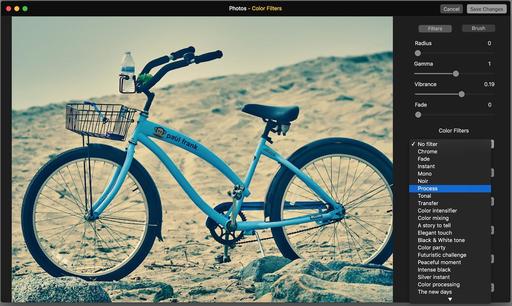 In the Color Filters interface, you're presented with some nice pre-processing adjustments, such as highlights and shadows. Then you can move down to the filters themselves. There are six different sets, each with a healthy list of options. Just mouse over the different items on the list, and you'll see your image temporarily transformed with the filter. Find one you like, and click on it. The filter is applied. Click the Save Changes button to return to Photos.
Just like anything else in Photos, this process is totally non-destructive. While in Edit mode, you can press the M key to see the unedited version of the image, or choose Revert to Original to remove the effect altogether.
Color Filters is a well-coded, well-designed application. The performance is snappy, and the effects are terrific. Seems like a must-have investment for any Photos for OS X photographer.
Master Photos for OS X
(It's More Powerful than You Think)
For hands-on tutorials, be sure to take a look at Photos for OS X Essential Training on lynda.com. I cover everything you need to know to get the most from this surprisingly powerful image management application.
More Help and Insights on Photos for OS X
Don't forget about the Photos for OS X Special Feature Section on The Digital Story. It's a roundup of tutorials, videos, and articles focused on helping you master Apple's latest photo management software. You can also find it under Photography in the top nav bar.
Want to Comment on this Post?
You can share your thoughts at the TDS Facebook page, where I'll post this story for discussion.