This is The Digital Story Podcast #528, April 19, 2016. Today's theme is "Handling Harsh Light." I'm Derrick Story.
Opening Monologue
I've had people walk up to me when I was working and remark, "Oh, it's such a beautiful, bright day for photography. You must be thrilled." And I'm thinking, "How the heck am I going to control this contrast?" Yes, indeed, harsh lighting conditions are a tough challenge for photographers. And that's the focus of today's show.
Handling Harsh Light
The reality is that we don't always have control of when we have to take pictures. Your niece's birthday parties, weddings, travel photography, and events all seem to place us in the middle of the day with camera in hand.
Since these situations are often unavoidable, how does one still capture compelling images? Well, I have a few tips that should help.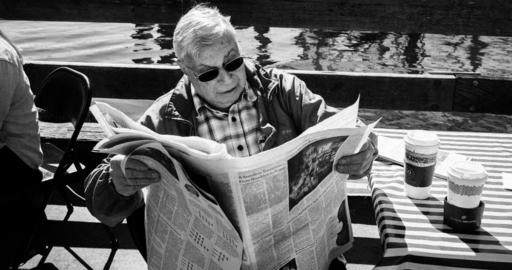 Switching to monochrome is one method to handle contrasty lighting conditions. Photo by Mitchell Koch from the TDS SF Street Photography Workshop.
Switch to Monochrome Mode - Nearly every digital camera has a B&W mode, and many are quite customizable. Monochrome images can thrive in contrasty light where color shots don't.

Experiment with Infrared - This option works in both color and B&W. IR shots look great on a bright, sunny day.

Don't forget about Fill Flash - A fill light from the front can eliminate unflattering shadows, dark eyes, and help even out hotspots.

Use a Diffuser - If it's good enough for SI photographers shooting bikini-clad models on a sunny Caribbean beach, we can use it too. Fabric diffusers makes harsh sun flattering for portraits.

Built-In Camera Filters - Most mirrorless cameras have an array of built-in filters and effects, many of which look great in contrasty light.
The Digital Story Photography Podcast Debuts on Google Play Music
Starting this week, podcasts on Google Play Music in the US and Canada will begin rolling out on Android and be available on the web. The rollout on Android devices will be gradual, so users may not see podcast content on the Google Play Music app immediately.
Among those in the first wave is The Digital Story Photography Podcast. We're thrilled to be on the Google Play Music platform.
April 24th is World Pinhole Day
I saw The Phoblographer stating: "April 24th is World Pinhole Day-a day for all pinhole photographers to get out there and shoot in celebration of the old school format! Right here in NYC, The Phoblographer is teaming up with Lomography for our very own World Pinhole Day Celebration with a cool photowalk. If you've never shot pinholes, have shot them and want to do them in a more social space, then sign up!
Contax 137MD Winner
Congratulations to Kathleen C. who commented on "A Most Beautiful Break": "Very pleasing tones! I am kicking myself for having thrown out about 40 rolls of film in a "spring cleaning" accident about a year ago. Good stuff, too. Fuji velvia (ouch), Kodak Portra, Fuji Superia, T-Max, etc. I thought at the time I would never go back to film. Now, I can't get my mind off of the challenge of applying everything I have learned over the last few years with digital photography to film. I was shooting in auto mode when I was a film shooter..." Kathleen, please click on the Contact Us link at the bottom of the page for theAnalogstory.com.
Updates and Such
And finally, be sure to visit our friends at Red River Paper for all of your inkjet supply needs.
See you next week!
More Ways to Participate
Want to share photos and talk with other members in our virtual camera club? Check out our Flickr Public Group. And from those images, I choose the TDS Member Photo of the Day.
Podcast Sponsors
Red River Paper - Keep up with the world of inkjet printing, and win free paper, by liking Red River Paper on Facebook.
ImageFramer Take your photos to the next level with ImageFramer. Visit www.apparentsoft.com today.
MacPaw Creators of CleanMyMac 3 and other great software for Apple computers. Visit www.macpaw.com today.
The Nimbleosity Report
Do you want to keep up with the best content from The Digital Story and The Nimble Photographer? Sign up for The Nimbleosity Report, and receive highlights twice-a-month in a single page newsletter. Be a part of our community!
Want to Comment on this Post?
You can share your thoughts at the TDS Facebook page, where I'll post this story for discussion.