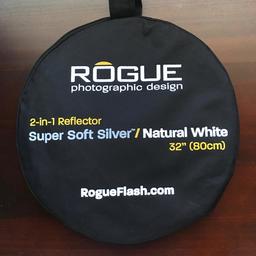 Honestly, I've been waiting a long time for a reflector like this. And maybe one existed, and I just didn't know about it. But now that I have the Rogue Collapsible 2-in-1 Reflector, I've added another missing piece to my portrait work.
What's the difference between the Rogue and every other collapsable reflector? It's the super soft silver side that provides a crisp contrast without being too hot. So when using it as a fill light, you get enough pop to make a difference without blowing out the highlights.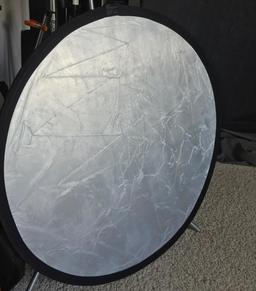 On the other side features a traditional natural white reflector, which is always good to have for more subtle fill. The natural white reflects a neutral tone instead of the bluish tints that I've see with some cheaper models. Plus the white can also be used as a background in a pinch. That being said, I think it's the silver side that I think most photographers will be using.
The Rogue 2-in-1 expands to 32" diameter; a nice working size that isn't too big to hold by hand, yet provides ample lighting. It folds down to 11.5" in diameter, so it will easily fit in most backpacks and lighting bags. Both the included case and the reflector have hanging loops. And all the materials are high quality that you can feel.
One difference with the Rogue, as a result of these quality materials, is that it will not work as a diffuser. In order to produce the right contrast for the silver side, the fabric is coated to create the softening surface. So if you do need diffusion, I would also pack one of your thinner white collapsables.
The Rogue Collapsible 2-in-1 Reflector is available for $29.95. It's a terrific photo accessory for portrait photographers.
---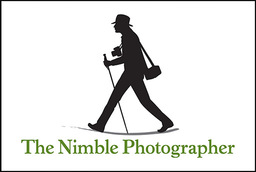 The Rogue Collapsible 2-in-1 Reflector has a high Nimbleosity Rating. What does that mean? You can learn about Nimbleosity and more by visiting TheNimblePhotographer.com.