Talk about a beautiful convergence of the analog and digital worlds. For my morning photo shoot, I mounted a Carl Zeiss 50mm f/1.4 (Contax/Yashica mount) on to an Olympus OM-D E-M10 Mark II and added a Contax 13mm close-up ring in-between to photograph flowers around my studio.
I wanted two things from this shoot: as shallow depth of field as possible and no tripod. I got both with this combination. The Zeiss 50mm is one of my favorite optics to adapt to the OM-Ds. I've been using a Rayqual Mount Adapter to fit my Zeiss primes on to the Olympus digital bodies. The system works great thanks to the amazing image stabilization in the OM-Ds. I set the aperture on the lens, put the mode dial in the "A" position, and start shooting. It's that easy.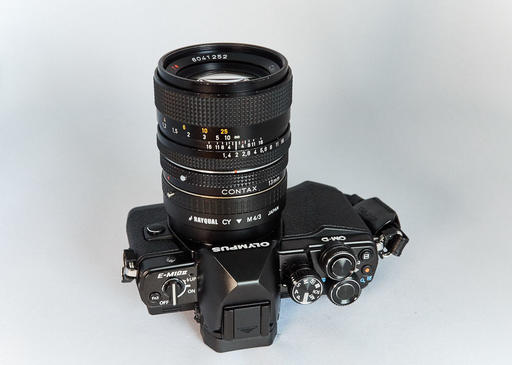 The OM-D provides the correct meter reading and image stabilization. Plus, I have the EXIF metadata for everything but the aperture setting, which I mentally note, then add later. I then load the RAW files into Capture One Pro for a little fine-tuning, then output.
The reason why I like this approach, is because I want to create images that have a painterly feel to them, and this convergence of analog and digital provides just that.
Get Your Analog On!
Stop by the for all things film, SLR, Polaroid, and rangefinder. It's a blast from the past.