The
1.1 version of External Editors
, a must-have 99-cent editing extension for Photos, continues to drive this application in the right direction.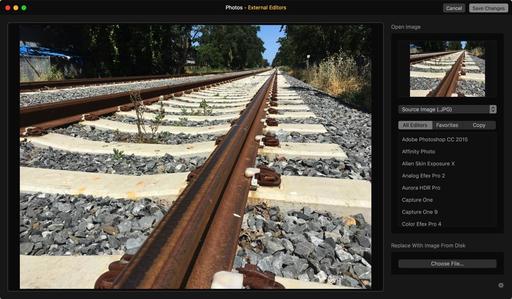 Version 1.1 of External Editors brings a new interface and nice improvements.
When I first wrote about the app in February, it didn't have a mechanism for handling RAW file transport. But version 1.1 features many refinements, including being able to convert RAW files to Jpegs or Tiffs in the extension itself.
This leads to many possible workflows. The one I've been using goes like this for RAWs.
In Photos, duplicate the RAW file and name it as an external edited version.
Open the duplicated RAW in External Editors and use the Convert To command to change it to Tiff or Jpeg.
Send it to the processor of your choice and edit.
Save the file and return to Photos.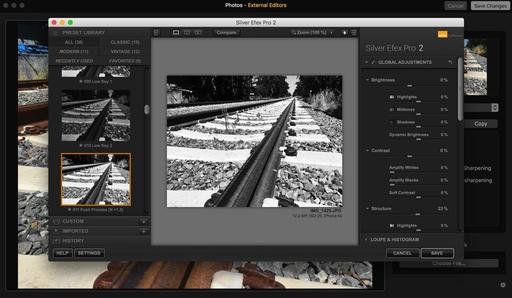 Silver Efex Pro 2 running with External Editors and Photos.
The edited Tiff or Jpeg will be positioned next to your original RAW in the Photos library. You have other workflow options, such as Replace with Image from Disk. It's worth playing with to find the sequence that works best with you. Because the bottom line is this: Exernal Editors opens up all of your image editing tools to your Photos library.
The Apple Photos Book for Photographers
For photographers who are more than just casual snapshooters, or who are making the transition from Aperture or iPhoto, The Apple Photos Book for Photographers shines a light on the sophistication of this app and the ecosystem it taps into. Available as an eBook now, and coming to print later this year.
Get it for $15 using checkout code APPLE15!
And dont forget... For hands-on tutorials, be sure to take a look at Photos for OS X Essential Training on lynda.com. I cover everything you need to know to get the most from this surprisingly powerful image management application.
Want to Comment on this Post?
You can share your thoughts at the TDS Facebook page, where I'll post this story for discussion.