Sometimes when I look at a shot, I think to myself: "I like it, but it needs something." If I'm working in Photos for macOS, that something can be Intensify by Macphun.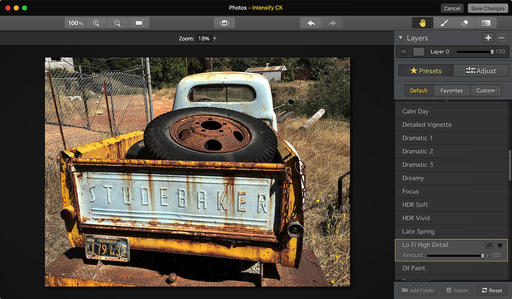 The reason why I like Intensify is because it's a different approach to image enhancement than HDR. Intensify uses a combination of pro contrast, structure, and detail boost to "bring the image forward." The best way to start is to peruse the presets listed on the right side of the interface, then fine tune your selection with the Adjust tools.
You also have options for working in layers and localized work. Once you've tuned the shot, click on the Save Changes button, and you're returned to Photos. The process is totally non-destructive. You can revert to original at any time, or view the previous version by pressing the M key while in Edit mode.
I've found that Intensify helps me find that little extra juice that I know I want, but am not always sure how to create. It's one of my secret weapons in my Photos for macOS bag of tricks. (Well, I guess not so secret anymore...)
Master Photos for OS X
(It's More Powerful than You Think)
For hands-on tutorials, be sure to take a look at Photos for OS X Essential Training on lynda.com. I cover everything you need to know to get the most from this surprisingly powerful image management application.
The Apple Photos Book for Photographers
For photographers who are more than just casual snapshooters, or who are making the transition from Aperture or iPhoto, The Apple Photos Book for Photographers shines a light on the sophistication of this app and the ecosystem it taps into. Available as an eBook now, and coming to print later this year.
Get it for $15 using checkout code APPLE15!
Want to Comment on this Post?
You can share your thoughts at the TDS Facebook page, where I'll post this story for discussion.