This is The Digital Story Podcast #541, July 17, 2016. Today's theme is "Moose Peterson Coffee Break." I'm Derrick Story.
Opening Monologue
If someone asked you, "What would you rather do this morning... tackle that big writing project you've been procrastinating on, or have Moose Peterson stop by to shoot the breeze?" Well, I can tell you what my answer was... and I turned on the recorder to share the conversation with you. Listen in on today's TDS podcast.
Moose Peterson Coffee Break
When Brad Pitt has a new movie out, chances are good that he'll make an appearance with Jimmy Fallon on the Tonight Show. And when Moose Peterson is in town putting the finishing touches on his new MP Backpack Series for MindShift Gear, the odds are I can get him to come by my studio for a morning chat. After all, I'm only about 5 minutes away from Think Tank Photo headquarters.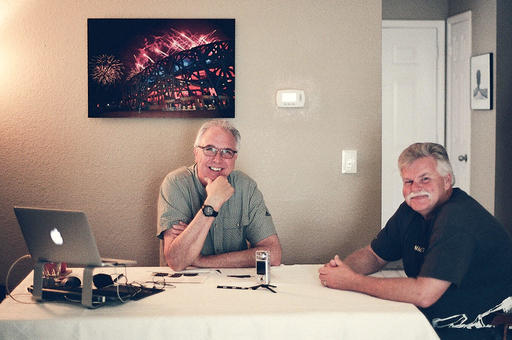 Derrick Story and Moose Peterson, photo by Sharon Peterson.
So sure enough, both Moose and his wife Sharon joined me for coffee recently. We sat around the big table here at the studio, and I fired up the audio recorder and just set it in the middle of all of us. I wanted you to be able to listen in just like you were here with us.
Moose has this terrific new backpack that's a collaboration between the Petersons and MindShift Gear. It was just announced yesterday, so I thought you might enjoy hearing about it directly from the Moose's mouth. So here we go.
In the News
Lightroom Mobile 2.4 is Wildly Impressive via The Digital Story.
The other exciting recent announcement, in my opinion, was Lightroom Mobile 2.4 for both iOS and Android. The releases are a bit different, and on the iOS side, we now get RAW editing and localized adjustments.
So I put this new version through its paces, and share my impressions with you.
The Second Episode of Nimble Photographer Podcast is Now Live
One of my favorite shows of the first season, "Baggage" is now live for our Patreon members. In this episode, I read and discuss four different stories that relate to our camera bags. And thanks to all of our new Patreon supporters who signed up this week.
Real Camera Stores
I've started this series on theAnalogstory.com called Real Camera Stores. If you haven't read any of them yet, you might want to click on the link. But more importantly, if you have a real camera store that you want to share with the world, I'd love to hear about it. Just send me the scoop, with a photo if you can, to theAnalogstory@gmail.com.
Updates and Such
Just Released!: The Apple Photos Book for Photographers
You can get your eBook copy of The Apple Photos Book for Photographers for $15 by using the checkout coupon: APPLE15. That saves your 5$ off the price.
And finally, be sure to visit our friends at Red River Paper for all of your inkjet supply needs.
See you next week!
More Ways to Participate
Want to share photos and talk with other members in our virtual camera club? Check out our Flickr Public Group. And from those images, I choose the TDS Member Photo of the Day.
Podcast Sponsors
Red River Paper - Keep up with the world of inkjet printing, and win free paper, by liking Red River Paper on Facebook.
MacPaw Creators of CleanMyMac 3 and other great software for Apple computers. Visit www.macpaw.com today.
Hedge for Mac - The fast solution for moving photos and videos from memory cards to drives, or drives to drives for that matter. Learn more at Hedge for Mac.
The Nimbleosity Report
Do you want to keep up with the best content from The Digital Story and The Nimble Photographer? Sign up for The Nimbleosity Report, and receive highlights twice-a-month in a single page newsletter. Be a part of our community!
Want to Comment on this Post?
You can share your thoughts at the TDS Facebook page, where I'll post this story for discussion.