One of the primary reasons that I moved from Aperture to Capture One Pro was that I felt comfortable with its organization tools. Yes, I like my catalog neat and tidy, and here's how I do that.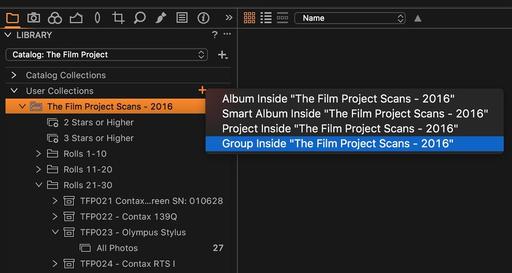 It's all about the hierarchy. At the top are Groups, which is Capture One terminology for what we typically call folders. I create my top level Group by navigating to User Collections, then clicking on the + icon. I then choose Group Inside...
For my catalog, this is usually a year, such as 2016. Moving forward, I keep my images in Projects, which look like little file boxes. Click on your Group once to highlight it, then click on the + and choose Project Inside... to create a new Project inside of that Group.
Projects need Albums to contain the actual image files. Click on your newly-created Project to highlight it, then click on the + icon, and choose Album Inside... from the popup menu. You are now setup to put images inside your User Collection.
When your images first are copied to the Catalog, usually from a memory card, by default they arrive in Catalog Collections > Recent Imports. Select all of those thumbnails from the last import, and drag them to the Album you created inside of the Project in the User Collections area. You have now successfully organized your first shoot.
Now all you have to do is continue down this path, creating nested Groups as necessary. You might want to add a Smart Album or two at the top of the list in the Group. You can click and drag these elements to place them in any order you want.
So the hierarchy looks something like this:
User Collections
Top Level Group
Nested Group
Project
Album
I like a clean workspace. I feel like I'm more productive in an organized environment, and the tools in Capture One Pro make that easy.
More Capture One Pro Tips and Techniques
Improve your skills by watching Capture One Pro Essential Training now available on lynda.com. More than 5 hours of tips, tricks, and techniques. Plus many free movies using advanced techniques.
I've also created a dedicated Capture One Pro Training page on The Digital Story. You can follow all of the tips and techniques that I publish in one convenient spot.
Thinking About Making the Transition from Aperture or Lightroom? - Download my free eBook titled, Rocky Nook's Guide to Moving to Capture One Pro. I show you the steps to create a test library, then build the foundation for a smooth transition to Capture One Pro.
Want to Comment on this Post?
You can share your thoughts at the TDS Facebook page, where I'll post this story for discussion.