I don't know about you, but I sometimes capture horizons with my smartphone that aren't perfectly straight. (I'm sure it has nothing to do with my one-handed, cavalier shooting lifestyle.) Then there are other times when rotating an image to the left or right actually makes a more interesting composition.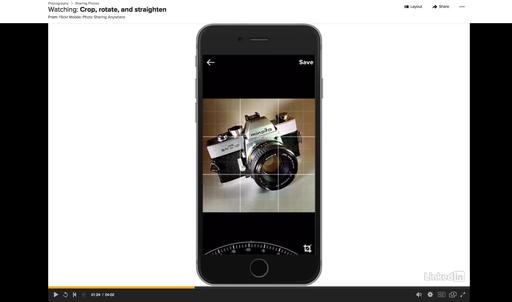 If the destination for this image is Flickr, I can crop, rotate, flip, and straighten right there in the mobile app. This comes in especially handy if you're just ready to upload, notice that the image isn't quite right, and want to fix it without having to exit out of Flickr to another app. Here's a video on how this works.
This is just one of the many conveniences built into the Flickr Mobile app that works wonderfully on Android and iOS devices.
More Flickr Tips and Techniques
If you want to master Flickr on your mobile device, check out Flickr Mobile: Photo Sharing Anywhere. Desktop users might be interested in Sharing Photos with Flickr. Of course the platforms work well together too, and I discuss how you can integrate all of your devices to create a seamless photography workflow.
Want to Comment on this Post?
You can share your thoughts at the TDS Facebook page, where I'll post this story for discussion.