This is The Digital Story Podcast #543, August 2, 2016. Today's theme is "Make Mine Macro, Please." I'm Derrick Story.
Opening Monologue
I want more macro in my life. I love being able to close-focus on a subject without having to change lenses. In fact, changeing lenses, although very necessary at times, is a real buzz kill, especially when I have a shot before that's ready to be captured. So, in today's show, I'm going to talk about why you may want to add more macro to your life.
Make Mine Macro, Please
I did a search of standard zoom lenses for micro four thirds on B&H, and came up with one lens that included real close-up capability, the Olympus M.ZUIKO ED 12-50mm f/3.5-6.3. I thought this was interesting, and not in a good way.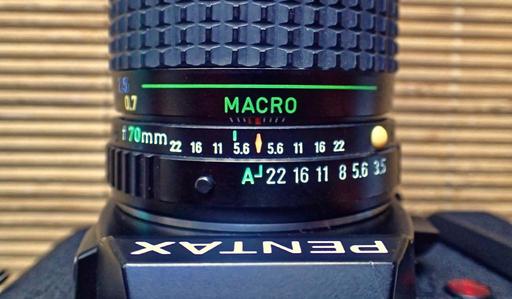 The reason why this has suddenly jumped out at me is because many of my analog zooms, plus my new Olympus TG-4 have macro functionality built right in. For example, on the analog side, the Pentax-A 35-70mm, Pentax-A 28-80mm, Contax/Zeiss 35-70mm f/3.4, and Minolta MD 28-80mm zooms all have terrific macro functionality. And because that feature is right there on the lens I already have mounted, I find myself moving closer more often.
So why does this make a difference? Well, here are a few reasons why I want macro.
Macro images immediately look different than other shots. If I'm presenting a slideshow and I drop a killer macro image in the group, I can hear the gasps.
I learn more about the natural world. I thought lavender flowers looked one way. Then I take a macro shot of one and discover that they are far more intricate and beautiful that I ever realized.
Darn handy for photographing business cards, labels, tags, and all the other bits of information in life that I don't want to write down.
Part of the reason why I'm disappointed that more of my Olympus lenses don't have built-in macro is because my cameras have built-in IS, one of the most important features for handheld close up photography.
So here's my bottom line: If you're not shooting closeup shots regularly, then I recommend that you find an easy way to do so. Otherwise, you're missing so much of our wonderful world.
In the News
Your Photos Could Be Illegally for Sale on Amazon via PetaPixel.
The Internet has become the wild wild west of copyright infringement, and the fact that so many photos are illegally republished around without permission and/or attribution makes enforcement tough for the photographers behind them. If you've ever shared your images on the Web, there's one big-name place they could show up for sale without your permission: Amazon.com.
So instead of grabbing copyrighted photos from photographers' websites, it seems that some Amazon sellers, such as HDpicsnwall may have harvested photos from other websites that illegally offer copyrighted photos for free. The seller then described the photos as "public domain" and began selling prints and products on Amazon.
The Third Episode of Nimble Photographer Podcast is now Live
In the third episode, "Busted" that will soon be available for our Patreon members, I explore my untimely introduction to being a southpaw, and how that affected my nimbleosity.
Scott Kelby on the New Lightroom App for Apple TV
By now you may have heard that Adobe released a Lightroom viewing app for the 4th gen Apple TV. Scott Kelby has an informative and entertaining Q&A about it on his blog. I thought you might get a kick out of it.
Q. What will be the answer to every question in this Q&A? A. It will be "No."
Q. Will it work on older Apple TVs? A. No.
Q. Can you add background music to the slideshow? A. No
Q. Can you edit photos in it? A. No.
Q. Can you change the order of the images using it? A. No.
Q. Is there a version for Roku? A. No.
Q. Does it work with more than one catalog? A. No.
Q. Does it work on the Amazon Fire? A. No.
Q. Couldn't you just use Airplay from your iPhone or iPad and still see all your images on TV, and then do everything that Lightroom Mobile can do, but seeing it all on your TV screen, and wouldn't that also work on older Apple TVs as well? A. Yes, you could, and yes it would.
Q. I thought you said all the answers would be 'No." A. OK, No.
"Well, there ya go. It's new, it's free, don't whine."
Updates and Such
Just Released!: The Apple Photos Book for Photographers
You can get your eBook copy of The Apple Photos Book for Photographers for $15 by using the checkout coupon: APPLE15. That saves your 5$ off the price.
And finally, be sure to visit our friends at Red River Paper for all of your inkjet supply needs.
See you next week!
More Ways to Participate
Want to share photos and talk with other members in our virtual camera club? Check out our Flickr Public Group. And from those images, I choose the TDS Member Photo of the Day.
Podcast Sponsors
Red River Paper - Keep up with the world of inkjet printing, and win free paper, by liking Red River Paper on Facebook.
MacPaw Creators of CleanMyMac 3 and other great software for Apple computers. Visit www.macpaw.com today.
Hedge for Mac - The fast solution for moving photos and videos from memory cards to drives, or drives to drives for that matter. Learn more at Hedge for Mac.
The Nimbleosity Report
Do you want to keep up with the best content from The Digital Story and The Nimble Photographer? Sign up for The Nimbleosity Report, and receive highlights twice-a-month in a single page newsletter. Be a part of our community!
Want to Comment on this Post?
You can share your thoughts at the TDS Facebook page, where I'll post this story for discussion.