If you're recording geodata with an iPhone and/or a camera such as the Olympus TG-4, then you have some handy viewing options built right in to macOS.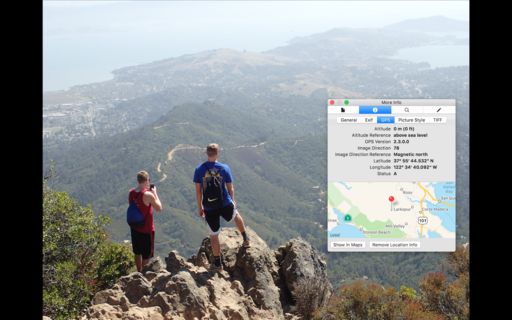 "Atop Mt. Tamalpais," The GPS tab in Get Info for the Preview app. Captured with an Olympus TG-4. Image by Derrick Story.
I catalog most of these images in Photos for macOS, which does show some basic geodata. But I really like the view in Preview using the More Info heads up display (Command-I). The GPS tab is more detailed than Photos, and you can click on the Show in Maps button for a terrific Satellite view with labels.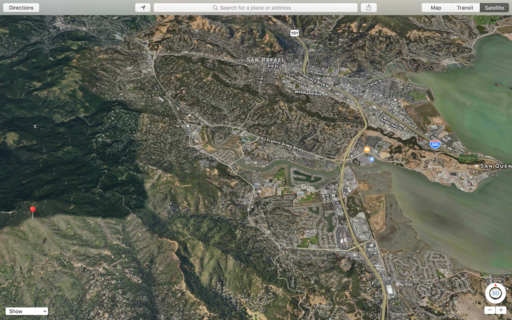 The Satellite view in Maps with labels showing.
Now one handy thing you can do in Photos is add a location pin to a picture, then export it and view in Preview and Maps. Do this in Photos by clicking on Assign a Location in the Info box and start typing where the image was captured. Photos will offer you locations. Choose the right one, and the tag will be assigned to the picture.
When you export the picture from Photos, be sure that the Location Information box is checked in the Export dialog. That will ensure the data travels with the image. Then you can view in Preview and Maps just like a picture that was geotagged with a camera.
Master Photos for macOS
(It's More Powerful than You Think)
VIDEO TRAINING
Want to see how easy it is to apply local edits to your images using Editing Extensions? Take a look at my new lynda training, Photos for OS X: Extensions for Local Adjustments.
And for an overview of all of the great features in Photos, my Photos for OS X Essential Training will get you up and running quickly. I cover everything you need to know to get the most from this surprisingly powerful image management application.
INSTRUCTIONAL GUIDE
The Apple Photos Book for Photographers
For photographers who are more than just casual snapshooters, or who are making the transition from Aperture or iPhoto, The Apple Photos Book for Photographers shines a light on the sophistication of this app and the ecosystem it taps into. Available as an eBook now, and coming to print later this year.
Get it for $15 using checkout code APPLE15!
Want to Comment on this Post?
You can share your thoughts at the TDS Facebook page, where I'll post this story for discussion.
We're on Apple News!
Find us now on the Apple News App for iOS! Just open this link on your iOS device, then add The Digital Story to your Favorites.