Photos users still exploring the new features on their Macs should not overlook the addition of Memories to their iPhones. In some ways, the mobile version surpasses the desktop experience.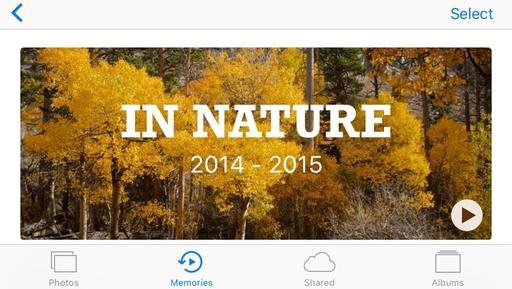 What makes sense about Memories on an iPhone is that it's the perfect device to share our experiences with others. And the ability to enhance a handful of images by creating professional looking slideshows with just a tap on the screen elevates the entire presentation.
Test it for yourself right now. Tap on the Memories button at the bottom of the Photos interface and turn your device to sideways to landscape mode. Tap the play button in the right corner, and Photos will build a slideshow based on the images in that Memory and start playing it.
Terrific. But you can step in and fine tune the presentation. Tap on the screen again to reveal the controls, as shown below.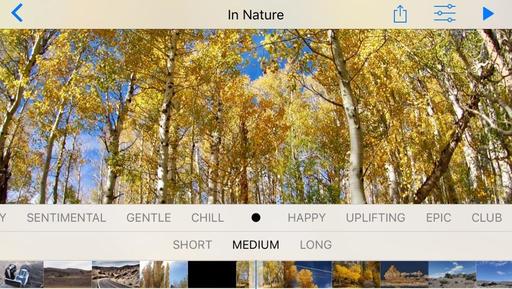 Directly beneath the image appears a row of themes you can choose from, things like Sentimental, Gentle, and Chill. And if you have enough slides, right below that is a second row that lists three durations, Short, Medium, and Long. So depending on the mood that you want to convey, and the amount of time your viewer has, you can reconfigure the presentation with just two taps on the screen.
For even more control, tap on the Adjustments icon in the upper left corner. Now you have additional editing options for the title, music, duration, and specific images included in the slideshow. Tap Done once you've made your changes.
You can share the presentation beyond your iPhone by tapping the Share button at the top of the screen. All of the usual suspects are available, including Facebook, YouTube, and Vimeo.
I recommend building your Memories on the desktop version of Photos for macOS. It's easier than working on the phone, and everything is instantly shared via iCloud anyway. But when it's time to show off the pictures, design the presentation on the fly for your viewer, then blow their socks off. It really is impressive.
Master Photos for OS X
(It's More Powerful than You Think)
For hands-on tutorials, be sure to take a look at Photos for OS X Essential Training on lynda.com. I cover everything you need to know to get the most from this surprisingly powerful image management application.
More Help and Insights on Photos for OS X
Don't forget about the Photos for OS X Special Feature Section on The Digital Story. It's a roundup of tutorials, videos, and articles focused on helping you master Apple's latest photo management software. You can also find it under Photography in the top nav bar.
Want to Comment on this Post?
You can share your thoughts at the TDS Facebook page, where I'll post this story for discussion.