As we explored the waterfalls and geysers in Iceland's famous Golden Circle, we faced rain, wind, and cold temperatures. And not once during the entire day did I worry about my camera.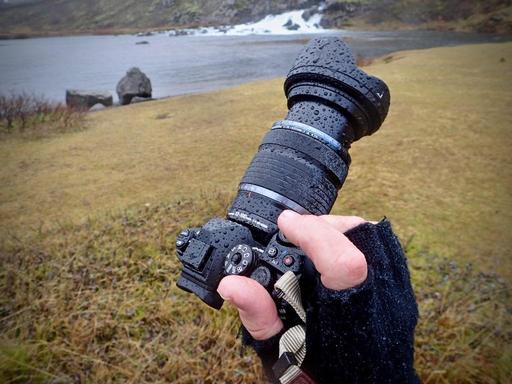 Olympus OM-D E-M1 with the new Olympus 12-100mm f/4 Pro lens. Photo by Derrick Story.
The Olympus OM-D E-M1 with the new Olympus 12-100mm f/4 Pro lens is an amazing all-weather resistant duo that captures stunning images. (We can't share those quite yet, but stay tuned.) The most difficult part of the day was keeping the front element free of droplets while shooting. Other than that, I would occasionally wipe down the camera with a bandana in-between scenes.
The E-M1 Mark II has all the features that you would expect, building upward from the excellent M-1. But Olympus has added many new touches too. The battery is beefier, there's a pro grip accessory, a new pro flash will be available, and the focus and burst rates can compete with the best of DSLRs.
As for the 12-100mm lens... that is all I shot with the entire day. One lens, every situation. The focusing is fast and sure, the range is terrific, and with its built-in image stabilization (coupled with the sensor-based IS in the camera), I was able to capture soft, running water shots without a tripod (6.5 stops of stabilization!)
The E-M1 Mark II, 12-100mm zoom, 25mm f/1.2 prime, and my accessories all fit easily in the svelte Think Tank Mirrorless Mover 25i. Which is amazing when you think about it... an entire pro kit in a challenging environment that weighs just a few pounds.
I'll be reporting more on the OM-D E-M1 Mark II, and publishing pictures once the embargo lifts. But after day 1 of putting it through its paces, I can tell you this is one heck of a pro kit.
Want to Comment on this Post?
You can share your thoughts at the TDS Facebook page, where I'll post this story for discussion.