What a great time of year for creating slideshows to share with others. Whether it's a wrap-up of the holidays, or the entire year, these short videos are a perfect way to tell your story.
If you're an iPhone shooter, you have a robust slideshow editor on your laptop that can tap into all of those great images on your phone. Photos for macOS makes it easy to author and share these presentations. And if you want to take your movie to the next level, customize your title screens using this simple tip. Here's a video that walks you through the steps.
That's right - the greeting card tool in Photos for macOS can also be used for creating professional title screens for your slideshows. And everything you need is right there under one roof.
Instead of printing the card, you output it to digital and add it to your presentation. The look absolutely great because you have all of the high-end design tools in the greeting card creator at your disposal.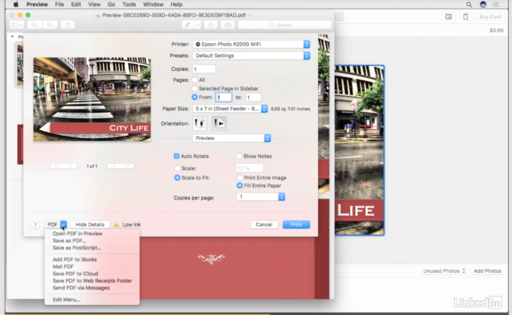 Output to digital to use your design in a slideshow.
A few of these handsome titles will make your video shine. Also, keep the overall presentation short - about 1.5 to 2 minutes - and add some audio as appropriate. Your fans will love it.
But Wait, There's More!
If you'd like to cozy up to more helpful videos, watch my latest lynda title, Photos for macOS Essential Training. Tons of tips to help you bring out your inner artist.
You can share your thoughts at the TDS Facebook page, where I'll post this story for discussion.