This is The Digital Story Podcast #569, Jan. 31, 2017. Today's theme is "Plugins: Cake and Eat it Too." I'm Derrick Story.
Opening Monologue
The phrase, "You can't have your cake and eat it too," refers to telling someone that they can't have two good things that don't normally go together at the same time, like eating a cake and then continuing to possess that same cake so you can eat later*. An exception to this rule in the world of photography is with our photo management apps and plugins. I explain more in today's show.
* as written by Jacob Shamsian of the Business Insider.
Plugins: Cake and Eat it Too
On one hand, we want continuity with our photo management applications. So whether you're using Lightroom, Photos for macOS, Capture One Pro, or something else, you want to know that your photos are safe and retrievable.
But at the same time, this is also our digital darkroom where we fine tune, experiment, and test new approaches to get the most our of our imagery. For these activities we want new tools and filters that fuel our creativity. And to be honest, new tools don't come fast in photo management applications.
A way that we can have both security and creativity is through the use of plugins. We don't have to give up our stable photo management system to experiment with new image editing tools. So I thought that I would share three interesting plugins with you today.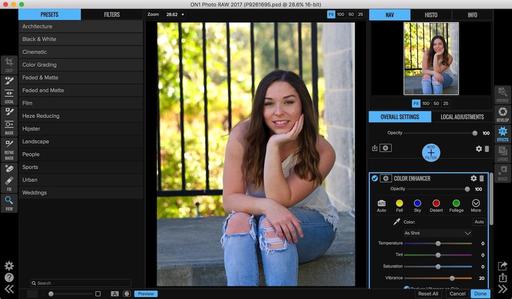 On1 Photo RAW
Available for both Mac and Windows. No catalog means you (or anyone with access) can store and edit your photos anywhere (local network and cloud). Built-in layers, brushes, and masking tools. Includes all of the ON1 apps; Browse, Develop, Effects, Portrait, Layers, Resize, and Photo Via Works as a standalone app, as a plug-in (for Adobe® Photoshop® and Lightroom®), a host app (Google® Nik® and other apps), or as an extension (for Apple® Photos®).
I'm most interested in Photo RAW as a complement to Photos for macOS. But I think it's useful as a Lightroom plugin too. I downloaded the trial, and went for a test drive.
Bottom line was that Photo RAW worked well for Lightroom with smooth handoffs back and forth. But as an editing extension for Photos for macOS, it crashed Photos and didn't work. On1 Photo RAW is available for $99.
Luminar
No surprise here, I'm sure, that Luminar is at the top of this list. Mac users who rely on Lightroom, Aperture, or Photos for macOS, can expand their post processing chops with an array of sophisticated filters, layers, and localized editing brushes. You can purchase Luminar for $69 that includes the full set of plugins with a standalone version of the app.
DxO Film Pack
Available as a plugin for Lightroom, Photoshop, and Aperture 3, or as a standalone app. Mac and Windows compatible. In Lightroom you need to set it up as your additional external editor in Preferences. Once doing so, the roundtrip is painless, and the adjusted image is returned to Lightroom in a stack with the original.
This plugin gives access to more than 80 analogue films, and combines many original renderings with filter, vignetting, blur, texture, frame or light leak effects.
I really like these film emulations, and the fact that it is an excellent RAW processor at the same time. You can purchase versions starting at $79.
In the News: Advanced Editing Extensions from lynda.com
This is a very cool training from lynda.com: Photos for macOS: Advanced Editing Extensions. I show you how to use Luminar, DxO Optics Pro, Pixelmator, Affinity Photo, and Polarr. I cover standalone versus editing extension, and how to blend all of these tools into a creative, easy to use workflow.
Updates and Such
The registration forms for the The Chicago to New Orleans Rail Adventure - June 26-29, 2017, and for the San Francisco Street Photography Workshop - have been sent out to members of our reserve list. This workshop begins the day after Out of Chicago concludes. So if you're going to OOC, just add Sunday night to your hotel reservation if you plan on joining us. You can still get on the reserve list for this event, and for our others, by visiting the TDS Workshops Page and using the Send Me Info form on that page. I'm going to open both of these workshops to the general public soon. So if you're on the reserve list, and want to go, I would sign up soon.
Big thanks to all of our Patreon members! I was able to pay for the podcast server and the backup system from last month's pledges. Your contributions are making a positive impact.
B&H and Amazon tiles on www.thedigitalstory. If you click on them first, you're helping to support this podcast. And speaking of supporting this show, and big thanks to our Patreon Inner Circle members.
And finally, be sure to visit our friends at Red River Paper for all of your inkjet supply needs.
See you next week!
More Ways to Participate
Want to share photos and talk with other members in our virtual camera club? Check out our Flickr Public Group. And from those images, I choose the TDS Member Photo of the Day.
Podcast Sponsors
MindShift Gear - MindShift Gear is a group of committed professional photographers and product designers who support conservation and protection of our natural resources and planet.
Red River Paper - Keep up with the world of inkjet printing, and win free paper, by liking Red River Paper on Facebook.
The Nimbleosity Report
Do you want to keep up with the best content from The Digital Story and The Nimble Photographer? Sign up for The Nimbleosity Report, and receive highlights twice-a-month in a single page newsletter. Be a part of our community!
Want to Comment on this Post?
You can share your thoughts at the TDS Facebook page, where I'll post this story for discussion.