When I'm out in nature taking pictures, one of the things that I look for are compositions for my fine art greeting cards. I've found that simple, elegant images make are perfect for printing on card stock.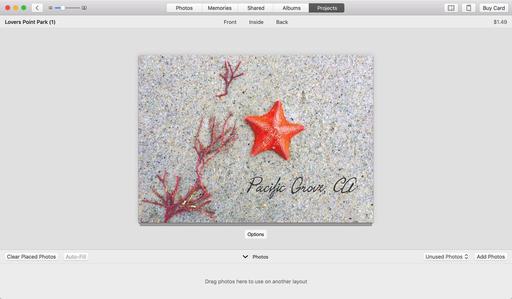 Washed up Bat Star on a beach in Pacific Grove, CA. Photo and card design by Derrick Story.
I add to the challenge by resisting the urge to move elements in the photograph, and try to stick with the compositions that nature presents me. Such was the case with this series of beach portraits after a storm in Pacific Grove, CA.
I try to find 6-8 compositions that work well together so I can produce a set of cards with a theme. Once I've settled on the shots I want, I design the cards in Photos for macOS, using the variety of templates and tools available in that app.
Then I can send off an order for the cards, or I can print them myself using Red River Paper greeting card stock. (I show how to do this in my latest book, The Apple Photos Book for Photographers).
Regardless of how you output, keep in mind that capturing these elegant, natural compositions when exploring the great outdoors can help you produce some handsome greeting cards when you return home.
Book or Videos: Photos for macOS
Explore the world of modern photography with my The Apple Photos Book for Photographers that features insightful text and beautiful illustrations.
And if you'd like to cozy up to a video at the same time, watch my latest lynda title, Photos for macOS Essential Training
You can share your thoughts at the TDS Facebook page, where I'll post this story for discussion.