This is The Digital Story Podcast #571, Feb. 14, 2017. Today's theme is "The Home Studio: Easier than You Think." I'm Derrick Story.
Opening Monologue
As much as I love outdoor portraiture, some shoots are just better inside. Wardrobe changes are easier, lighting is controllable, and the temperature is far more comfortable. And if you do product photography too, a home studio becomes a necessity. But how much room and equipment do you need to have a functional workspace? Probably less than you realize. And that's what I'm going to discuss in today's show.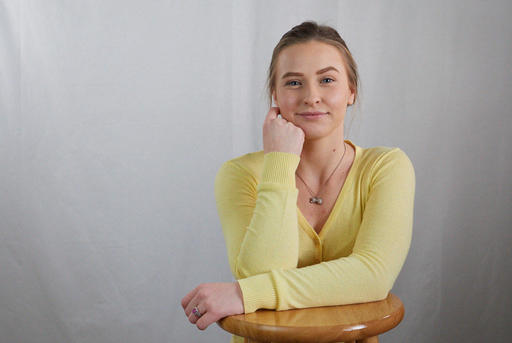 "Brittney" by Derrick Story. Unretouched portrait (no image editing other than a crop) captured at Sunleaf Studio with OM-D E-M5 Mark II and Panasonic 12-35mm f/2.8 zoom lens.
The Home Studio: Easier than You Think
One of the aspects of having a studio workspace is that it's there waiting for you whenever inspiration strikes. And when you're finished shooting, you can just close the door and tidy up later. Half of my photography happens in this environment.
A lot of folks believe that such a space is expensive. And that the room needs a lot of modification. But this just hasn't been the case for me. And to help you with your considerations about such an endeavor, I'm going to take you behind the scenes of my shooting room. Here's a photo of my working space.
How Much Space? - The room I use is a standard bedroom that measures 11'x10', with a north facing window. I did swap out the sliding closet doors with mirror door, which photo subjects really like because they can follow how they look during the shoot. The walls are painted flat white, providing me with a bright, airy feeling. If I want to change the mood, I can always close the blinds and work with just supplemental lighting.

What About Backdrops? - When I first set up the studio, I constructed my backdrop frame out of PVC pipe. Later, I bought a backdrop stand for less than $75, and it's great. I use muslin and roll paper for my backdrops. And with the stand system, it's easy to change the backdrop during the shoot if I want.

Do I Need Expensive Lights? - I started with simple off-camera speedlights. But when the price of LED lighting dropped, I switched completely to those. I love LEDs because I can control both the intensity and color temperature. Plus, the constant light makes exposure and composition very easy. And they are cool too.
What Type of Modifiers Work Best? Since I have a north facing window, sometimes I just that light only with a couple reflectors. This is one of my favorite lighting schemes because it's so beautiful and natural. But I also use inexpensive soft boxes and umbrellas.

Do I Need a Lot of Hardware? - Light stands are essential to help you position the lights exactly where you want them. And the good news is, they last forever. You'll also need a variety of clamps and light holders. Most of use just start with the basics, then add on over time. I've been adding to my collection for more than 20 years.
If you can't swing a dedicated room for your studio work, a shared space can work quite well. The main thing to consider is, can you keep the clutter in check? I have tables and cabinets around the edges of the room. But the central area remains open, providing enough space for my shoots.
In the News
Nikon reports "extraordinary loss", "fundamental company-wide restructuring" (via NikonRumors):
In addition to canceling the DL line of premium compact cameras, Nikon also issued several statements describing "extraordinary loss", "fundamental company-wide restructuring" and a revision of their last financial forecast.
Nikon Corp. reported a net loss to owners of the parent of 831 million yen or 2.10 yen per share for the nine months ended December 31, 2016 compared to profit of 18.71 billion yen or 47.08 yen per share, previous year.
In accordance with the restructuring announced on November 8, 2016, the Group recorded extraordinary loss of 29.79 billion yen, mainly incurred from inventory write-downs/write-off in Semiconductor Lithography Business, as restructuring expenses for the nine months ended December 31, 2016.
Nine-month operating income increased by 67.1% year on year to 42.18 billion yen, and ordinary income increased by 42.5% year on year to 44.79 billion yen.
Nine-month net sales were 565.89 billion yen compared to 616.50 billion yen, a year ago.
Dates Set for the Northern CA Coast Tour Workshop
Good news for those wishing to join us for a tour up the Northern CA Coast. We've set the dates for this event: May 18-20th, 2017. Originally, we were planning this as a summer workshop. But after working with experts who actually live in the areas that we'll be working, we moved the event to late May. This provides us with Spring weather and far cheaper room accommodations.
Those of you on the Reserve List will receive your personal invites later this week. You will have 10 days to secure your spot before we open up the event to the general public. If you're not on the reserve list, and would like to be, please visit the TDS Workshops Page and use the Send Me Info form.
Updates and Such
Big thanks to all of our Patreon members! I was able to pay for the podcast server and the backup system from last month's pledges. Your contributions are making a positive impact. You can learn more here.
B&H and Amazon tiles on www.thedigitalstory. If you click on them first, you're helping to support this podcast. And speaking of supporting this show, and big thanks to our Patreon Inner Circle members.
And finally, be sure to visit our friends at Red River Paper for all of your inkjet supply needs.
See you next week!
More Ways to Participate
Want to share photos and talk with other members in our virtual camera club? Check out our Flickr Public Group. And from those images, I choose the TDS Member Photo of the Day.
Podcast Sponsors
MindShift Gear - MindShift Gear is a group of committed professional photographers and product designers who support conservation and protection of our natural resources and planet.
Red River Paper - Keep up with the world of inkjet printing, and win free paper, by liking Red River Paper on Facebook.
The Nimbleosity Report
Do you want to keep up with the best content from The Digital Story and The Nimble Photographer? Sign up for The Nimbleosity Report, and receive highlights twice-a-month in a single page newsletter. Be a part of our community!
Want to Comment on this Post?
You can share your thoughts at the TDS Facebook page, where I'll post this story for discussion.