There are two basic ways to tap the power of Luminar. One is to use is as a standalone app (and there are advantages to that). Or you can tap its power as a plugin/editing extension (Lightroom, Photoshop, Photos for macOS). When would you choose one over the other?
The primary reason for going the standalone route would be if you wanted to go back and fine tune a layered document. I explain exactly how this works in the following video.
Most of the time I'm using Luminar as a plugin/editing extension. But for my special projects, I go the standalone route so that I can continue to refine the image without any loss of quality. This is particularly fun for ongoing projects.
Limited Special Offer Plus Coupon
If this is a workflow that you're interested in, the timing couldn't be better. Macphun is offering a sweetheart of a deal for Luminar. This offer is valid until Saturday, Feb. 18th. Here are the details. For $69 you'll get:
Luminar, super-charged photo software for any Mac photographer (standalone version plus plugins and editing extension).
Vivid Wonderland Luminar preset pack.
Pose like the Pros: Family Photos - eBook.
Top 25 Places to Shoot the Most Romantic Photos - eBook (I think this is the Valentine's day part :-)
Creative Sky Overlays (include 166 Color Sky Overlays, 69 Landscape & Ocean overlays).
And a Coupon for an Additional $10 Savings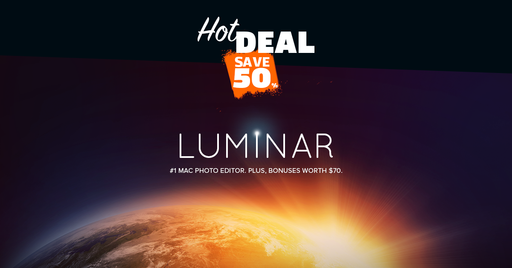 In addition to this special offer of Luminar plus bonuses for only $69 (total value $139 Savings of 50 percent), I can save you another $10 if you use coupon code: THEDIGITALSTORY at checkout. That lowers the price for the entire package to $59.
With this offer, you get the standalone version of the app, and all of its plugins, including for Lightroom, Photoshop, and Photos for macOS. This gives you maximum flexibility in how you use Luminar's powerful editing tools.
I'm having a blast editing my images with Luminar. I hope you give it a try.
Photos for macOS as Your Digital Darkroom
You can learn more about using Luminar as an editing extension in my lynda.com training, Photos for macOS: Advanced Editing Extensions.
And if you'd prefer to cozy up with a book, check out The Apple Photos Book for Photographers that features chapters on basic editing, advanced post processing, and editing extensions.
You can share your thoughts at the TDS Facebook page, where I'll post this story for discussion.