The path to my affection for Pentax cameras has been a windy one. In my 35mm film days, round 1, I shot Canon, Contax, and Yashica. Canon made the transition to autofocus and has flourished. Contax and Yashica never really established themselves in the digital age. Meanwhile, Pentax quietly evolved to autofocus, and then to digital, with far less fanfare than Canon and Nikon.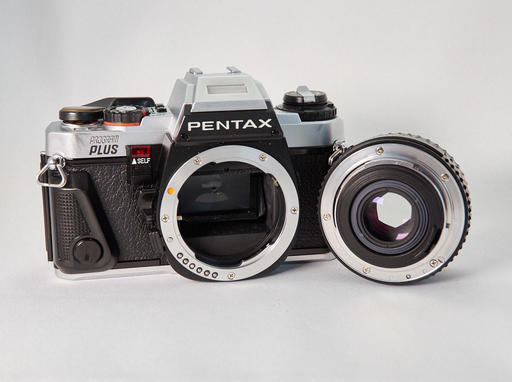 Pentax Program Plus with 50mm Pentax-A manual focus lens.
When I would write reviews about the latest crop of cameras, however, I knew that I had better included a Pentax in the lineup, or I would hear about it from a small, but vocal community of photographers. And now, years later, I know why.
The genius of Pentax boils down to two core standards that they have maintained throughout the years.
Pack as much functionality as possible into a compact form factor. The minute you pick up a ME Super, Program Plus, ZX-5n, or the latest KP, you'll notice that the camera fits nicely in your hands and takes up less room in your bag. Yet, everyone of those bodies were or are as fully featured as their peers of the time. My Canon EOS Elan II feels huge compared to its competitor at that time, the Pentax ZX-5n. Both take great shots.

If you buy a Pentax lens, it should work on their bayonet-mount cameras regardless of when they were made. Pentax protects your lens investment. Their bayonet mount, starting with the Pentax-M, then the Pentax-A, Pentax-F, Pentax-FA and onward are compatible across their line of analog and digital cameras. Yes, their are minor exceptions here and there, but overall it's impressive. I mix and match glass daily on bodies that span decades of design.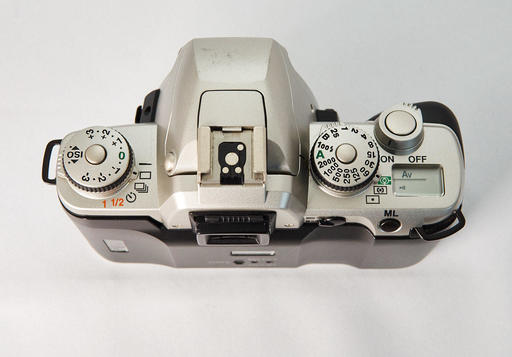 Top deck of the Pentax ZX-5n 35mm film camera.
Currently, my favorite lenses are the Pentax-F 35mm f/2.0 (the ultimate street prime), Pentax-F 35-70mm f/3.5-4.5 (super compact zoom with macro), Pentax-A 50mm f/1.7 (just freakin' beautiful), and the Pentax-M 135mm f/3.5 (very compact with built-in lens hood). They are a mix of autofocus mounts (F) and manual focus (A and M) that work on all of my Pentax bodies, including my upcoming test of the Pentax KP.
My current favorite 35mm Pentax bodies are the manual-focusing Super Program (tons of features with a classic SLR design), its handsome little brother the Pentax Program Plus, and the autofocus ZX-5n (Pop Photo called it "retro" when it came out in the mid 1980s). I have a digital *ist DL that's a total blast. I shot with (and loved) a Pentax K5 for years. And now I can't wait to get my hands on the new KP.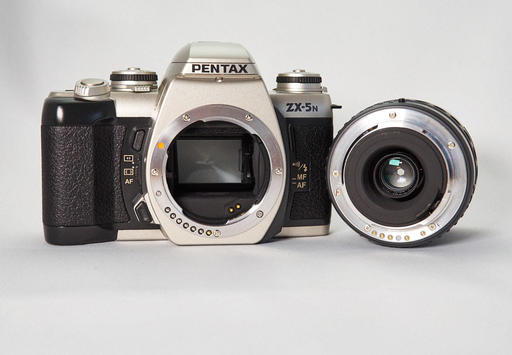 Pentax ZX-5n with Pentax-F 35-80mm autofocus zoom lens
Those of you who frequent my TheFilmCameraShop on Etsy know that it is stocked with Pentax gear. That's because those lenses and bodies are high value/low cost items. Pentax owners tend to take good care of their gear, it is well made, and you can get great deals on the used stuff. To that point, my 35mm f/2.0 autofocus lens that I bought for $219 in pristine shape, provides great images on every Pentax body I own, or will ever own.
Why did it take me so long to figure this all out?
Want to Comment on this Post?
You can share your thoughts at the TDS Facebook page, where I'll post this story for discussion.