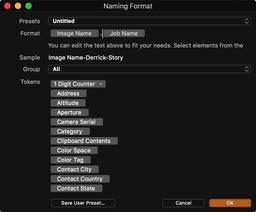 If you're running a managed catalog in Capture One Pro, you have the option of customizing file names on import. I use this feature 99 percent of the time because having both the original image number and additional data makes it easier to keep track of my pictures once they leave the cosy confines of the C1 environment.
Capture One handles this task through the use of tokens. They are metadata building blocks that you can arrange in any order. My favorite combination is: Image Name-Job Name. The first token retains the original file number, while the second is an editable field that allows me to include a descriptive word or two in the file name itself. Here's a short video that shows how I do this.
Another way I use this functionality is to add my name to the file name itself when I deliver images to a client. Even though my copyright info is in the metadata, I've discovered that many PR folks don't dig very deeply when using my photographs. Having my name in the file name increases the odds of a photo credit in the caption.
If you're a Capture One Pro user, it's worth building a strategy for enhancing the file names of your images. We're in a bumper sticker society, and the more visible your vital info is, the better.
Take Control of Your Capture One Library
My lynda.com title, Advanced Capture One Pro: Library Management, shows you how to organize like a pro, covering techniques for referenced and managed catalogs, plus integrating sessions, backing up masters, and configuring your Capture One environment specifically to your needs.
Want to Comment on this Post?
You can share your thoughts at the TDS Facebook page, where I'll post this story for discussion.