This is The Digital Story Podcast #576, March 21, 2017. Today's theme is "If Only One Lens." I'm Derrick Story.
Opening Monologue
Many of us have toyed with the hypothetical question: "If you could take only one lens to a desert island, what would it be?" My view on this has changed over the years, and now there's finally a clear answer... at least for today. And I will reveal my choice in the top story of today's TDS podcast.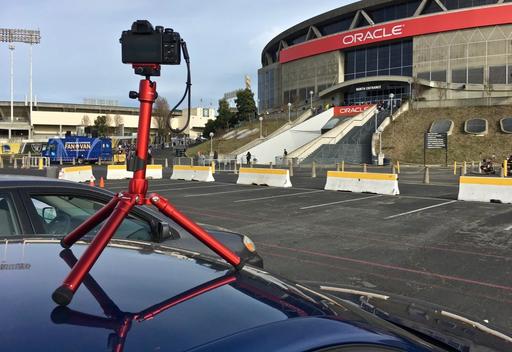 Spontaneous Timelapse with the MeFOTO Roadtrip Air
This week's three-legged adventure with the MeFOTO Roadtrip Air focuses on perching the tripod atop my Audi at Oracle Arena for a spontaneous time lapse recording.
Just to give you a bit of background about this super nimble tripod, it's distinguishing features include:
Super Fast Setup with the new HyperLock Leg System. Setup is as easy as 1,2,3: 1 - Hold tripod leg and twist counterclockwise until it stops (4 clicks), 2 - Pull the leg to the desired length, 3 -Twist leg clockwise until it stops. (How easy is that?)
Perfect for Selfies - removable telescoping center column converts to a Selfie Stick with included smartphone holder and Bluetooth remote!
Ultra lightweight - 30 percent lighter than classic MeFOTO models
Available in Backpacker, RoadTrip, GlobeTrotter models and 7 colors.
If you want to learn more about the MeFOTO line of tripods, look for the colorful tile on all the pages of the thedigitalstory.com. And if you decide that you want one for yourself, use coupon code THEDIGITALSTORY to save 10 percent and receive free shipping.
My 5 Favorite New Features in Capture One Pro 10
Now that I've had a chance to really get to know the latest version of Capture One Pro, here's my list of favorite new features in version 10.
Three Step Sharpening
Output Proofing
Filter by Orientation
New Default Workspace
Folder Management in the Folders Area
I just finished recording a new Capture One Pro Essential Training for version 10, and we should see the release in April from lynda.com. And remember, I have the in-depth Capture One Pro 9 Essential Training available now on lynda.com. More than 5 hours of tips, tricks, and techniques. Plus many free movies using advanced techniques.
Updates and Such
Big thanks to all of our Patreon members! I was able to pay for the podcast server and the backup system from last month's pledges. Your contributions are making a positive impact.
We still have one seat open for our Road Trip workshop. (The SF workshop and Rail Adventure have sold out.) If you'd like an invitation to either event, visit the TDS Workshops Page and use the Send Me Info form.
B&H and Amazon tiles on www.thedigitalstory. If you click on them first, you're helping to support this podcast. And speaking of supporting this show, and big thanks to our Patreon Inner Circle members.
And finally, be sure to visit our friends at Red River Paper for all of your inkjet supply needs.
See you next week!
More Ways to Participate
Want to share photos and talk with other members in our virtual camera club? Check out our Flickr Public Group. And from those images, I choose the TDS Member Photo of the Day.
Podcast Sponsors
MeFOTO Air Tripods - MeFOTO Air Tripods are a nimble photographer's dream.
Red River Paper - Keep up with the world of inkjet printing, and win free paper, by liking Red River Paper on Facebook.
The Nimbleosity Report
Do you want to keep up with the best content from The Digital Story and The Nimble Photographer? Sign up for The Nimbleosity Report, and receive highlights twice-a-month in a single page newsletter. Be a part of our community!
Want to Comment on this Post?
You can share your thoughts at the TDS Facebook page, where I'll post this story for discussion.