Without doubt, the Signature 13 is the best looking shoulder bag Think Tank has ever designed. And as you'd expect, it's as functional as it is handsome.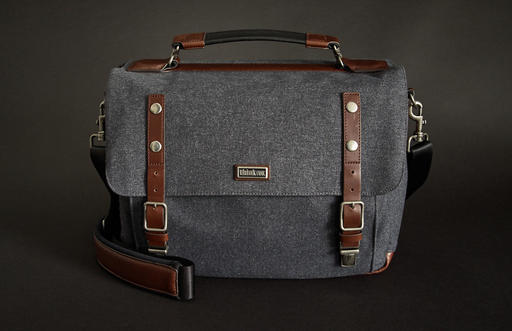 Significant Features
The soft shell feels like a fine woolen suit, but it's actually an advanced technology fabric that's both durable and weather resistant. The dual top flap system consists of a nylon lined zipped cover that can be closed in bad weather or for security reasons, and a fold over messenger flap that is latched with dual metal buckets.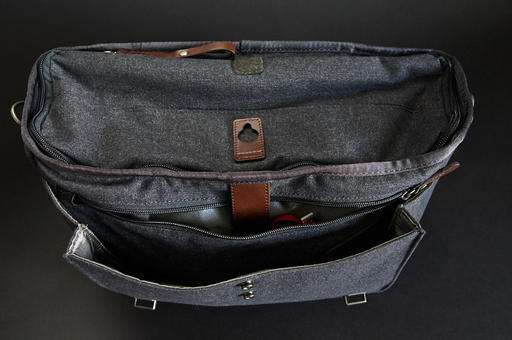 The expandable front pocket is closed by a leather strap with a metal snap button that also contains a zipped pocket inside of it.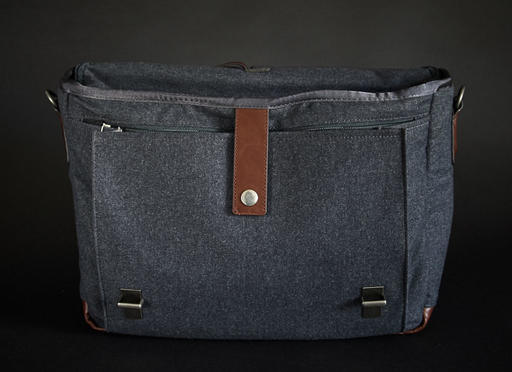 Inside the main compartment are two sleeves, one for a 13" laptop, and another behind it for a tablet, notepad, or book. The camera compartment is completely lined and includes fabric-covered dividers that can be configured in a variety of styles.
On the back of the bag is another zippered pocket and a trolly sleeve. The leather bottom protects the contents, and the bag, when set on a damp surface. The wide strap features a neoprene pad with leather trim and metal hardware.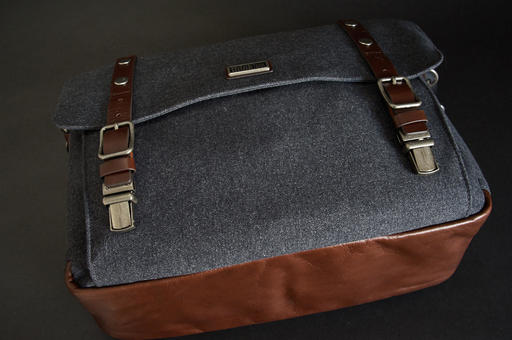 Other niceties include leather top handle, dedicated smartphone pocket, detachable fitted rain cover, and a button to secure the inner top flap to the main flap to keep it out of the way when not in use.
Who is the Signature 13 for?
The Signature 13 is an ideal everyday work bag for mobile photographers who need their office and camera gear in a stylish carrying solution that's as comfortable in a business meeting and it is next to you in an Uber Black.
Personally, I wouldn't choose this bag for a day of street photography, opting instead for the Retrospective 7 or similar shoulder bag. But as an everyday bag that's both compact, yet holds plenty of gear, the Signature 13 is top shelf.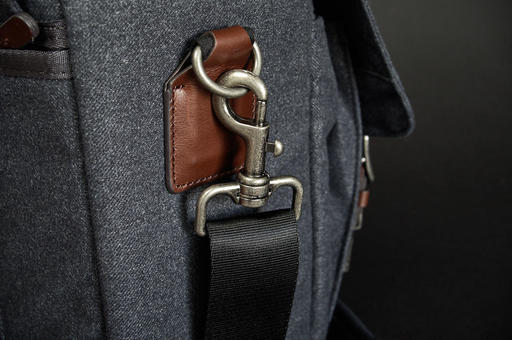 Currently, I have a MacBook Pro 13", iPad mini, Pentax KP DSLR with Pentax 20-40mm HD zoom, Olympus OM-D E-M5 Mark II with Panasonic 20mm f/1.7, Pentax ZX-5n with Pentax-F 35-70mm zoom, extra lenses, and plenty of accessories. All of this was in the bag when I photographed it for this review. So you can see that it can accommodate plenty of gear, and still maintain its svelte lines.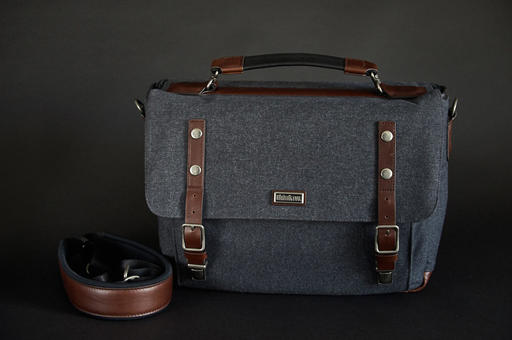 Final Thoughts
I like the way this bag sits squarely on the table without listing forward or backward. The dual top flap system provides exceptional protection and looks great doing so. The adjustable strap is very comfortable, and the top handle feels great when you need to grab the Signature 13 out of the trunk or from an overhead compartment. And I know that I've mentioned this a few times now, but this shoulder bag is very easy on the eyes.
The Signature 13 is my companion to work, meetings, Starbucks, and on the road. Personally, I like the buckles and snap buttons instead velcro. If you have similar tastes, you'll most likely love this bag.
The Signature 13 is available now for $279.