This is The Digital Story Podcast #578, April 4, 2017. Today's theme is "Becoming Part of the Story" I'm Derrick Story.
Opening Monologue
I find it interesting that photographers often are absent from the stories they tell. Whether it be a family vacation, a gathering with friends, or a somber occasion, we tend to record everyone but ourselves. But as the storyteller, we are most likely part of the narrative too. And exploring how we can better integrate ourselves is the subject of today's show.
Becoming Part of the Story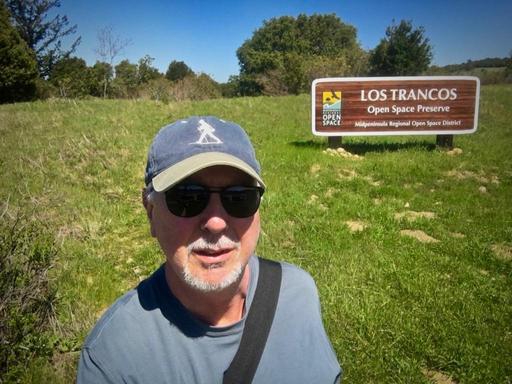 It would be easy to blame this on selfies. And what I mean by that, is that most serious photographers don't want to be caught photographing themselves with their iPhones.
But when you think about it, why not? If we capture an image of us interacting with others in the story, or on location, why is that a bad thing? It doesn't mean that we're a narcissist.
This came to mind again this weekend when I was testing the Roadtrip Air, which I'll talk about in the next segment. I had joined a group of hikers learning about the San Andreas Fault. And if I hadn't taken a shot of me, I would have had everything relating to the activity except for the storyteller himself.
So, here are a few reasons to force yourself to turn the camera in your direction.
The artist is often as interesting as the art he creates.
So often in movies and TV shows, the storyteller narrates the tale, even if he or she isn't shown on camera. Why? Because it's interesting.
If you're the photographer in the family, and you never include yourself in the images, then you haven't done a good job of recording history.
There's an art to self-portraiture that is worth learning. Who better to capture a portrait of you, than you?
And finally, if you use your smartphone to capture a self-portrait, you're also recording the location data, which can be applied to the other images from the event.
The MeFOTO Roadtrip Air on Assignment
This week's three-legged adventure with the MeFOTO Roadtrip Air focuses on removing the center column and using it as a bluetooth-controlled selfie stick.
Just to give you a bit of background about this super nimble tripod, it's distinguishing features include:
Super Fast Setup with the new HyperLock Leg System. Setup is as easy as 1,2,3: 1 - Hold tripod leg and twist counterclockwise until it stops (4 clicks), 2 - Pull the leg to the desired length, 3 -Twist leg clockwise until it stops. (How easy is that?)
Perfect for Selfies - removable telescoping center column converts to a Selfie Stick with included smartphone holder and Bluetooth remote!
Ultra lightweight - 30 percent lighter than classic MeFOTO models
Available in Backpacker, RoadTrip, GlobeTrotter models and 7 colors.
If you want to learn more about the MeFOTO line of tripods, look for the colorful tile on all the pages of the thedigitalstory.com. And if you decide that you want one for yourself, use coupon code THEDIGITALSTORY to save 10 percent and receive free shipping.
The Sigma 135mm F1.8 Art Sample Gallery
In this article posted on DP Review, they wrote, "Recently the new Sigma 135mm F1.8 Art landed in the office, prompting us to get out there and shoot some portraits... from a distance. While one of their heavier primes, performance is exceptional wide-open with very quick focusing. What about that background blur? Take a look at our samples to find out."
The sample images are quite good, and very interesting. I talk about them in this segment of the show.
The Nikon version will be available on April 25, 2017 for $1.399. And the Canon version should be ready by April 6 for the same price.
Updates and Such
Big thanks to all of our Patreon members! I was able to pay for the podcast server and the backup system from last month's pledges. Your contributions are making a positive impact.
We still have one seat open for our Road Trip workshop. (The SF workshop and Rail Adventure have sold out.) If you'd like an invitation to either event, visit the TDS Workshops Page and use the Send Me Info form.
B&H and Amazon tiles on www.thedigitalstory. If you click on them first, you're helping to support this podcast. And speaking of supporting this show, and big thanks to our Patreon Inner Circle members.
And finally, be sure to visit our friends at Red River Paper for all of your inkjet supply needs.
See you next week!
More Ways to Participate
Want to share photos and talk with other members in our virtual camera club? Check out our Flickr Public Group. And from those images, I choose the TDS Member Photo of the Day.
Podcast Sponsors
MeFOTO Air Tripods - MeFOTO Air Tripods are a nimble photographer's dream.
Red River Paper - Keep up with the world of inkjet printing, and win free paper, by liking Red River Paper on Facebook.
The Nimbleosity Report
Do you want to keep up with the best content from The Digital Story and The Nimble Photographer? Sign up for The Nimbleosity Report, and receive highlights twice-a-month in a single page newsletter. Be a part of our community!
Want to Comment on this Post?
You can share your thoughts at the TDS Facebook page, where I'll post this story for discussion.