This is The Digital Story Podcast #579, April 11, 2017. Today's theme is "f/2.8 and Be There" I'm Derrick Story.
Opening Monologue
One of the more interesting conversation threads during our SF Street Photography Workshop was about motivation. Our photographers would talk about periods of time where life overtook their art, and during those stretches, the camera seldom saw the light of day. On the flip side, however, it was interesting how quickly they could build momentum once they set aside some time for their camera work. Getting there is half the battle, and how to do that is the topic of today's show.
f/2.8 and Be There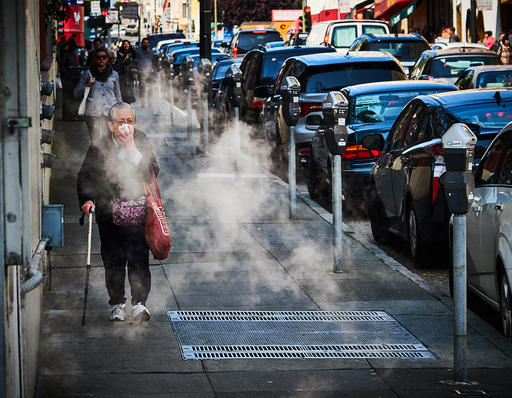 First, you may be wondering why I wrote f/2.8 and Be There instead of the traditional f/8 and Be There. It has to do with mirrorless cameras and diffraction.
Now that we've got that squared away, how about that motivation thing? Well, here are a few suggestions.
Don't rely too much on your smartphone - Yes, they are convenient, and they do take great pictures. But they also get us out of the habit of making real photography decisions. When possible, carry a traditional camera with you as well - and shoot with it during your daily life moments.

Get more exercise outside - Gyms are great for shredding it, but not very good environments for photography, especially if you wish to retain your membership. You need to get outside as well for your workouts (walking, biking, jogging) and take a traditional camera with you.

Secure photo time within family time - You don't want photography to drive a wedge in your family life. But you do need to set aside time specifically for your craft. So if you're off on a week long vacation, negotiate before you leave for a few mornings and/or evenings when you can focus on your craft.

Spend time with other photographers - The exchange of views and ideas among photographers truly helps keep the creative juices flowing. Workshops, camera clubs, and photo buddies will encourage you to make time for shooting when you might have otherwise settled for another activity.

Create projects with deadlines - After everyone in the house has settled down for the night, you can spend some time working on your personal projects. Activities such as organizing, planning, editing, and sharing stimulate the brain. Thinking about your photography before you go to sleep may yield a new idea when you wake up.
The MeFOTO Roadtrip Air on Assignment
This week's three-legged adventure with the MeFOTO Roadtrip Air heads to San Francisco where it joined our group for an evening shoot at the Embarcadero.
Just to give you a bit of background about this super nimble tripod, it's distinguishing features include:
Super Fast Setup with the new HyperLock Leg System. Setup is as easy as 1,2,3: 1 - Hold tripod leg and twist counterclockwise until it stops (4 clicks), 2 - Pull the leg to the desired length, 3 -Twist leg clockwise until it stops. (How easy is that?)
Perfect for Selfies - removable telescoping center column converts to a Selfie Stick with included smartphone holder and Bluetooth remote!
Ultra lightweight - 30 percent lighter than classic MeFOTO models
Available in Backpacker, RoadTrip, GlobeTrotter models and 7 colors.
If you want to learn more about the MeFOTO line of tripods, look for the colorful tile on all the pages of the thedigitalstory.com. And if you decide that you want one for yourself, use coupon code THEDIGITALSTORY to save 10 percent and receive free shipping.
The Olympus PEN-F in San Francisco
I just published an article titled, 5 Reasons Why the Olympus PEN-F Crushed it in San Francisco, and I thought I'd share those with you now, plus a few additional tidbits.
Updates and Such
Big thanks to all of our Patreon members! I was able to pay for the podcast server and the backup system from last month's pledges. Your contributions are making a positive impact.
We still have one seat open for our Road Trip workshop. And reservation invitations for the TDS Autumn in Wine Country workshop will go out within the week. If you'd like an invitation to either event, visit the TDS Workshops Page and use the Send Me Info form.
B&H and Amazon tiles on www.thedigitalstory. If you click on them first, you're helping to support this podcast. And speaking of supporting this show, and big thanks to our Patreon Inner Circle members.
And finally, be sure to visit our friends at Red River Paper for all of your inkjet supply needs.
See you next week!
More Ways to Participate
Want to share photos and talk with other members in our virtual camera club? Check out our Flickr Public Group. And from those images, I choose the TDS Member Photo of the Day.
Podcast Sponsors
MeFOTO Air Tripods - MeFOTO Air Tripods are a nimble photographer's dream.
Red River Paper - Keep up with the world of inkjet printing, and win free paper, by liking Red River Paper on Facebook.
The Nimbleosity Report
Do you want to keep up with the best content from The Digital Story and The Nimble Photographer? Sign up for The Nimbleosity Report, and receive highlights twice-a-month in a single page newsletter. Be a part of our community!
Want to Comment on this Post?
You can share your thoughts at the TDS Facebook page, where I'll post this story for discussion.