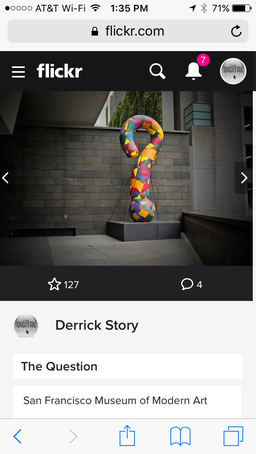 Someone's ToDo List item got checked off today. The Flickr.com website now renders beautifully on mobile devices as well as on the desktop.
Previously, lovers of photography had to use the Flickr app or a mobile version of flickr.com to browse, favor, and comment while scrolling though images. But now, you can merely enter flickr.com in your phone's web browser, and enjoy an optimized experience.
Everything is there: Camera Roll, Photostream, Explore, Galleries, Stats, Trending, and more. If you want to fav a photo from someone that you're following, you have to tap on the star beneath the image. Instagram users who are used to double-tapping on the photo to favor it will be greeting instead with the image appearing on a new web page.
Other than that adjustment, the new Flickr.com on mobile devices is an attractive and intuitive experience. Let the browsing begin...
More Flickr Tips and Techniques
If you want to master Flickr on your mobile device, check out Flickr Mobile: Photo Sharing Anywhere. Desktop users might be interested in Sharing Photos with Flickr. Of course the platforms work well together too, and I discuss how you can integrate all of your devices to create a seamless photography workflow.
Want to Comment on this Post?
You can share your thoughts at the TDS Facebook page, where I'll post this story for discussion.