If you've never explored the Skin Tone tab in Capture One Pro's Color Editor, you're in for a real treat.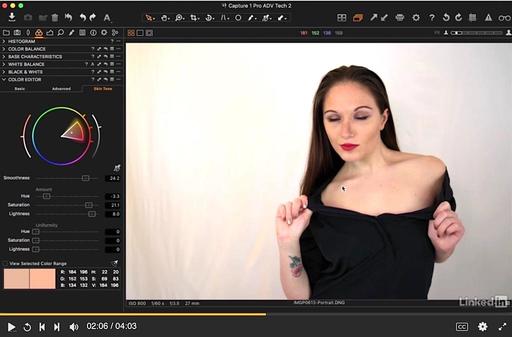 Unlike trying to adjust skin tones with the more generic white balance setting, Skin Tone in the Color Editor is designed just for portraits. In addition to hue, saturation, and lightness just for the complexion, you also have smoothness slider that makes everything look just a little better.
But the real magic surfaces with the uniformity sliders that help you offset areas of color shift, especially in the shadows. And what a difference these controls make in the professional appearance of your portraits. Take a look at this free training video that walks you through the entire process.
This is just one of the videos from my latest lynda.com/LinkedIn Learning course, Capture One Pro 10: Retouching. I focus on portraits and product photography in this course. And there are lots of handy tips, like the magic uniformity slider, for you to discover.
Master Capture One Pro
Start with Capture One Pro 10 Essential Training that will quickly get you up to speed with this pro level imaging application.
Then drill down into mastering the editing tools with Capture One Pro 10: Retouching and get supremely organized with Advanced Capture One Pro: Catalog Management.
You can share your thoughts at the TDS Facebook page, where I'll post this story for discussion.