The Capture One Pro 10.1 update was a substantial, much bigger dot release than what we typically see.
New goodies include master reset, tokenized watermarking (really slick), Photoshop round tripping, styles packs, and more. I've added movies to these features in my Capture One Pro 10 Essential training on lynda.com, which is also available on LinkedIn Learning. Here's a 10.1 overview movie that I think you'll enjoy.
I think the 10.1 update is icing on an already delicious cake. Capture One Pro 10 provides an excellent workflow to manage, edit, and output your RAW and Jpeg images.
Master Capture One Pro
Start with Capture One Pro 10 Essential Training that will quickly get you up to speed with this pro level imaging application.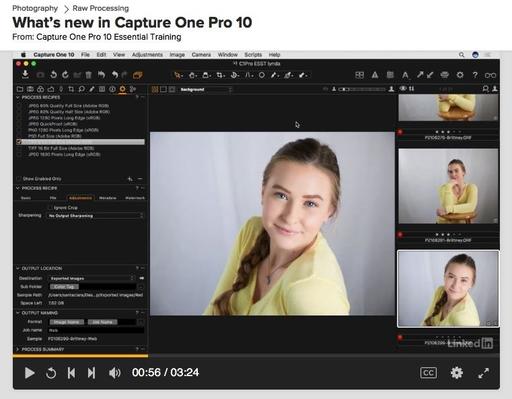 Then drill down into mastering the editing tools with Capture One Pro 10: Retouching and get supremely organized with Advanced Capture One Pro: Catalog Management.
Personalized Instruction Too!
If you want to have your questions incorporated into the curriculum, plus have live Q&A interactions, then take a look at my Nimble Classroom Series. I have personalized online sessions scheduled for Capture One Pro, Photos for macOS, and Luminar. Sign up today!
You can share your thoughts at the TDS Facebook page, where I'll post this story for discussion.