This is The Digital Story Podcast #591, July 4, 2017. Today's theme is "Frederic VJ Lives; New Orleans." I'm Derrick Story.
Opening Monologue
Some of my favorite moments during the Rail Adventure Workshop were our one-on-one meetings during the 19-hour train journey through the South to New Orleans. And one of the names that often came up during our discussions was my friend Frederick Van Johnson and his podcast, TWiP. Friends asking about friends, Southern hospitality, street photography, and so much more... all on today's TDS podcast.
Frederick Van Johnson Lives
Before we get to New Orleans itself, I want to address an issue that came up along the way: the well being of Frederick Van Johnson. As soon as I returned from my trip, I dropped him a note asking if he'd make an appearance on the show to discuss what he's been up to, and how he's been. Here's what he had to say.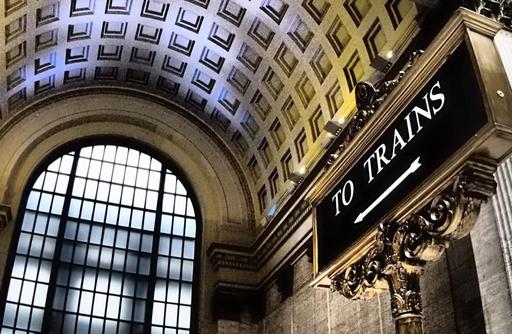 The City of New Orleans
It was supposed to rain every day we were in NOLA. And yet it stayed dry (relatively speaking) until 10 minutes after our workshop ended, when a downpour began. So other than the weather itself, here are my five favorite moments in New Orleans.
Shrimp Tacos in the French Market - I know that I shouldn't lead off with food, but how can you not when visiting Louisiana? In addition to the freshest shrimp taco I've ever had, I ate my way through the South trying a variety of local specialties, including my introduction to Tasso.

Wednesday Morning in the French Quarter - We were out the door early on Wednesday, lead by local photographer Tillie Van Etten. There's something special about photographing places like the Quarter as it slowly comes to life in the morning.

Breakfast in the Classroom - Each morning we dined together enjoying a full breakfast served by the staff at Hotel Provincial. In the evening, we also ate together in the restaurants, but these mornings were just us. And I loved being there with everyone.

Sergeant Mark Mumme - For our evening shoot in the Quarter, we hired Sergeant Mark of the New Orleans Police Dept. to watch our backs as we worked. I've never had security before during an urban shoot. But I loved it. And it was wonderful being able to just focus on our photography.

Class Presentation - After all the miles, photo shoots both in Chicago and New Orleans, everyone chose eight shots to share and discuss to close out the workshop. Reliving all of those moments with our crew was special indeed.
How to Choose a Color for Your Photo Mat
A mat can be described as a field of light or colour around a picture, in width usually 1/2 to 1/3 of the image's narrowest side. Mats can be of different shapes and kinds - rectangular, oval, multi-layered, with decorative insertions, etc. The mat creates a neutral zone between picture and its frame, helping the viewer to focus on the art work itself.
Here are five tips to keep in mind while designing a mat.
The color of a light mat should be a tone darker than the lightest color of the image. If using a dark mat, its color must be one tone lighter than the darkest color on the photo.

Using a colored mat is a good way to attract attention to important segments of a photograph. In this case, the surrounding color must be the same as the brightest segment of the image, but in more muted tones.

The simple trick of a double mat will give a personality to an artwork. Two or even three mats of different shades can be applied. The color of the inner mat is usually chosen from a particular tone in the image, which may be lighter or darker than the outside mat.

It is important to remember that colors and shades of a mat must be chosen to complement the color of the frame and the main color of the picture.
ImageFramer offers a huge selection of mats, as well as frames that play the role of a mat, which is especially good for oil paintings. Besides the usual colors, which accompany photographs and watercolors, you can select the color of your mat, using any color from your photo.
Read the complete article, How to Choose Mats for Photos for lots more information about framing your artwork.
Special Offer! ImageFramer celebrates Canada Day & July 4th with a 34% discount store-wide. No coupons necessary! (New Frames Too). You can learn all about it here.
We want everyone to enjoy the benefits of the new ImageFramer. ImageFramer 4.0 is a free upgrade for ImageFramer 3 customers. Note that it requires macOS 10.11 (El Capitan) or later. TDS listeners can receive a 20 percent discount by visiting: our ImageFramer landing page.
Updates and Such
Big thanks to all of our Patreon members!
Registration invitations have gone out to Reserve List members for the Autumn in Wine Country Photography Workshop. If you are on the Reserve List, but didn't get your invite, please contact me. You can learn more about the workshops by visiting the TDS Workshops Page.
B&H and Amazon tiles on www.thedigitalstory. If you click on them first, you're helping to support this podcast. And speaking of supporting this show, and big thanks to our Patreon Inner Circle members.
And finally, be sure to visit our friends at Red River Paper for all of your inkjet supply needs.
Texas-based Red River Paper recently announced a new fine art paper, Palo Duro Etching. The new paper is a 100 percent cotton rag paper and is free of optical brightener additives. The paper is designed to offer warm white tones, deep blacks and a subtle texture to accurately recreate traditional darkroom fine art prints.
See you next week!
More Ways to Participate
Want to share photos and talk with other members in our virtual camera club? Check out our Flickr Public Group. And from those images, I choose the TDS Member Photo of the Day.
Podcast Sponsors
ImageFramer 4 - ImageFramer is used by artists, professional and amateur photographers, scrapbookers, framers, and people who simply want their family photos to look better.
Red River Paper - Keep up with the world of inkjet printing, and win free paper, by liking Red River Paper on Facebook.
The Nimbleosity Report
Do you want to keep up with the best content from The Digital Story and The Nimble Photographer? Sign up for The Nimbleosity Report, and receive highlights twice-a-month in a single page newsletter. Be a part of our community!
Want to Comment on this Post?
You can share your thoughts at the TDS Facebook page, where I'll post this story for discussion.