The September release of Aurora HDR 2018 goes beyond adding a Windows version to the family. Macphun has created a cross-platform ecosystem for your fine art images.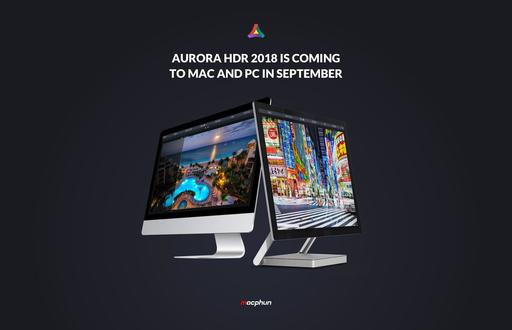 Two things make this work so well for photographers. First, the files created with either version - Mac or Windows - will be compatible on the other platform. Second, the product key can be shared with both versions. So it's very easy to integrate Aurora HDR 2018 into a mixed platform environment.
Other highlights include:
Lens Correction Tool - The new Lens correction filter easily fixes all kinds of lens distortion, from barrel to pincushion, to chromatic aberration and vignetting.
New User Interface - Redesigned from scratch, the modern and responsive user interface brings a powerful, yet joyful experience to HDR photo editing.
Speed Improvements - Up to 4x improvement in RAW image processing, and up to 200% faster merging and masking performance means that Aurora HDR 2018 is dramatically faster than the last version.
Total HDR editing experience with the most complete set of tools available. Fast, powerful RAW processing engine.
Tone-mapping algorithm to achieve both realistic and dramatic HDR images.
Over 70 presets that give photos an amazing HDR look in just one click.
Luminosity masking that automatically makes advanced selections within HDR images based on the Zone System.
Unique layer system that supports blend modes, custom textures and using original exposures as source images.
Image Radiance, brushes, masks, lighting, vignettes and much more help users achieve their artistic vision.
Highly versatile batch processing.
Works as a standalone app, or a plug-in to Photoshop and Lightroom.
Aurora HDR 2018 will be availabe for pre-order on September 12, and released on September 28. You can be notified when preordering begins, which you might want to consider because of the discounts.
Current users of Aurora HDR may upgrade at a special pre-order price of $49, while new users can purchase Aurora HDR 2018 at a special pre-order price of $89. A collection of bonuses will also be included with every purchase. Mixed-computer households can share the same product key for Mac and PC that can be activated on 5 devices.
You can share your thoughts at the TDS Facebook page, where I'll post this story for discussion.