As we're getting closer to the release of Apple's macOS High Sierra, some diehard Aperture users are wondering if the latest operating system will support their favorite photo management app. The answer appears to be yes.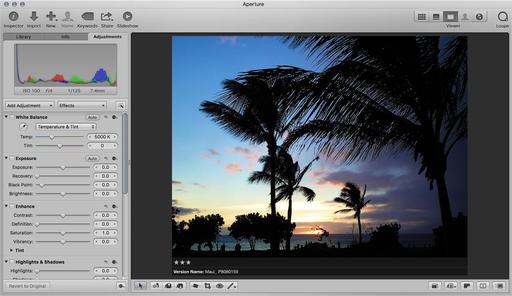 As of beta version 6 of High Sierra, users are reporting good performance. The only nagging issue seems to be full screen mode. And one tester, Henrik Lorenzen, commented that he was able to fix that glitch with a clean install.
This is important not only for photographers who want to keep using Aperture full time, but also for those who have extensive Aperture archives and want to be able to tap them as needed (myself included). It's a relief knowing that I can plug my everyday laptop into the Drobo and open a library from 2014.
On a related front, the Mac Observer is reporting on other compatible pro apps stating that Final Cut Pro X 10.3.4, Motion 5.3.2, Compressor 4.3.2, Logic Pro X 10.3.1, and MainStage 3.3 (or later) all will be compatible with High Sierra. If you're running earlier versions of any of these apps, don't upgrade your OS until you get things sorted out.
You can share your thoughts at the TDS Facebook page, where I'll post this story for discussion.