My client work typically requires a lot of moving around during the shoot. So I pack my gear as lightly as possible. And when I saw the new Think Tank Spectral 10 shoulder bag, I thought it might be useful on location.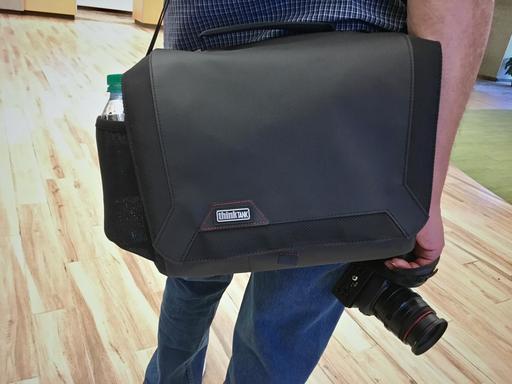 I chose the Spectral 10 (the middle size of 3 models) because of its nimble dimensions (13.8" W x 10" H x 6.1" D - 35 x 25.5 x 15.5 cm) and light weight (2.2) pounds. Because the bag isn't too thick, it hugs my body nicely while working. This is important to me because I had bulky bags swinging around as I'm navigating a shoot.
Inside I have my DSLR, backup body, two zooms, two primes, flash, and accessories. All of this fits wonderfully in the Spectral 10.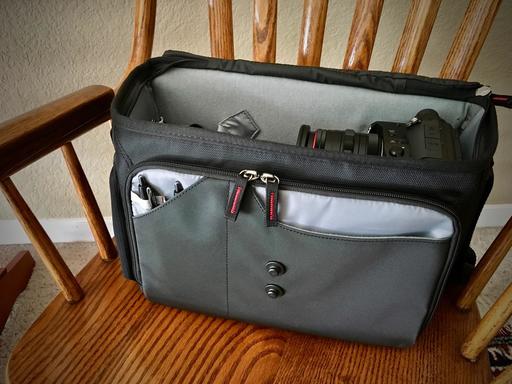 Think Tank created a clever latch they call the Fidlock that enables on-handed access to your gear. And if you don't overpack the bag, it naturally locks when the flap goes down. This is very handy on location. Because then you can use the top handle as well as the shoulder strap to pickup the bag without worrying about spilling the contents. The Fidlock is also silent, so there's no embarrassing velcro noises on set.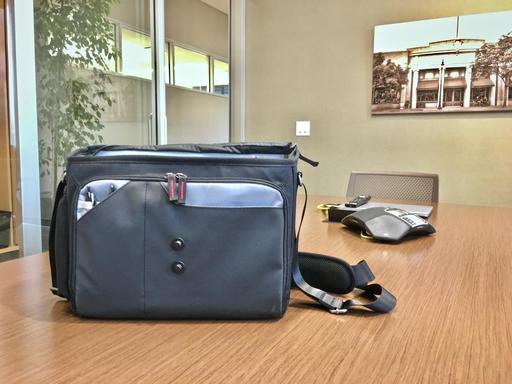 External pockets are kept to a minimum, retaining the slim design of the bag. There are lined sleeves for a tablet (up to 10") and a smartphone. A stretchy side pocket for your water, and a back pocket for paperwork, or in my case, a Rogue FlashBender. There's also a trolly sleeve on the back for sliding the bag over the extended handle of roller luggage.
Inside is a zippered top that protects your gear during travel and inclement weather. The main compartment has plenty of dividers to organize camera bodies, lenses, and lighting. It's easy to grab my camera during the shoot, then secure it in the bag when I need my hands free.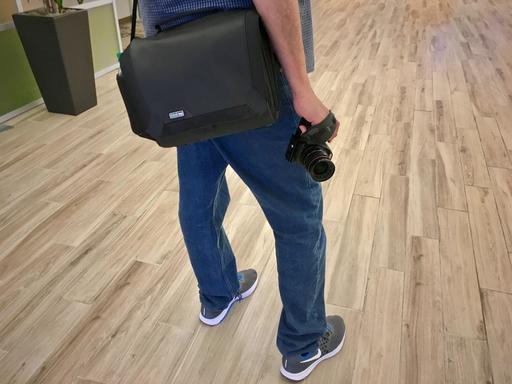 Accessories include a set of tripod attachment straps for the bottom, which is a waterproof tarpaulin base, by the way, and a separate rain cover.
You can buy the Think Tank Spectral 10 directly from Think Tank for $119.75, a reasonable price tag for a stylish (great for client shoots), well designed, and easy to use shoulder bag. I worked a long assignment with it yesterday, and I was comfortable and organized the entire time. This one is a keeper.