One of the things that I think is valuable about a photography workshop is getting away from daily responsibilities to focus on your craft. Over the last three days here in Sonoma County, a group of us did exactly that.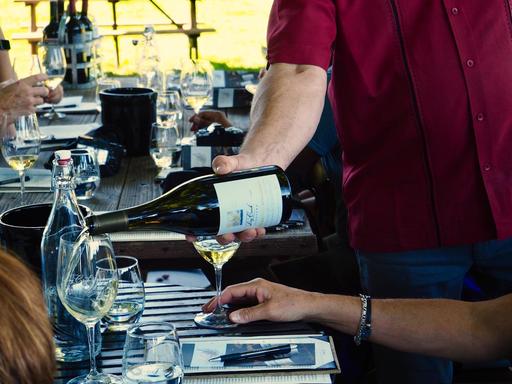 Learning about wine (and tasting as we go) at Dry Creek Vineyard in Sonoma County.
During our last hour yesterday in the tasting room at Ferrari Carano Winery in Healdsburg, some of us chatted about the delicate balance between critique and vision.
Earlier in the day, each photographer had presented eight images to the group in a darkened classroom with the hum of a projector fan in the background. We discussed each image, noting the things we liked and offered suggestions when appropriate. The quality of work was quite good. And these are the most important moments of any TDS workshop.
Afterward we celebrated our work with one last winery visit. It was a good call. We were able to reflect upon the last few days when we had experienced so much together.
I loved the discussion about balancing the feedback we receive from others with our own developing vision. How does one walk that line between being open to the suggestions while still following our own artistic voice?
The answer is a little different for each artist. I think it depends a lot on their personality and where they are on their journey. But what's really important is the opportunity to slow down for a minute to let this happen, to discuss these ideas with peers.
I had never combined wine tasting and photography before. I wasn't sure what to expect for this workshop. But it worked. Once again, I was reminded that if we can find a way to carve out time to pursue our craft in a supportive environment, good things will happen. Great wine doesn't seem to hurt the process.
And indeed good things did happen. And it was so enjoyable to celebrate them on that warm Saturday afternoon in that beautiful tasting room, deep in the Dry Creek Valley of Sonoma County.
PS: Next year's workshop schedule will be announced here in November. Stay tuned, and be a part of the experience.
You can share your thoughts at the TDS Facebook page, where I'll post this story for discussion.