It dawned on me as I was placing my order for an iPhone X the other morning, what a paradox I am as a photographer.
On one hand, I'm spending money I don't have for a smartphone of the future, primarily because of its camera. On the other, I had just refurbished a half dozen cameras for listing in TheFilmCameraShop that I run for 35mm enthusiasts.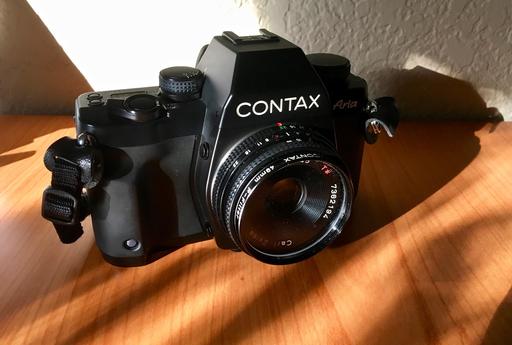 My film camera, a Contax Aria, shot with my iPhone.
But wait, it gets even crazier. Last week I photographed Hop Kiln Winery with a DJI Spark, stitching 8 images together in Lightroom CC. Later that day, I pulled out a DxO ONE to inconspicuously capture some high resolution candids.
And that's not to mention that my everyday creative camera is the fabulous Olympus PEN-F with its army of high quality compact lenses.
So, what gives? Have I totally lost my identity as a photographer? Actually, quite the opposite. I'm more focused and creative than ever.
What's happening is that I always have the right tool for the job. When I want that true film look, I pull out my Contax Aria with a Zeiss Tessar 45mm pancake lens. When I need an aerial view of the world, I fire up the Spark. The iPhone is always with me so I never miss a photo opportunity. And the PEN-F inspires me to go out and take pictures when I might otherwise feel less creative.
It's not cheap being a photographer these days. But then again, it never was. But it sure is fun. And I feel more prepared than ever to make interesting images. Plus, I don't think I've ever enjoyed this craft more than I do now.
You can share your thoughts at the TDS Facebook page, where I'll post this story for discussion.