This is The Digital Story Podcast #608, Nov. 7, 2017. Today's theme is "My Top 5 Photo Apps of 2017." I'm Derrick Story.
Opening Monologue
Competition on the photo software space has heated up in 2017. Lightroom still maintains its "King of the Hill" status, but there are newcomers and veterans alike challenging that position. But how do you determine what's right for you? Today I will share my favorite 5 with the hope that this information will make your decision just a bit easier.
My Top 5 Photo Apps of 2017
All five of these apps are the winners. I'm not ranking them because each person has his/her own unique needs, and the program that meets those needs the best should be their top pick.
That being said, I have my personal favorites among these five. And I will share those opinions during this discussion. So let's get started.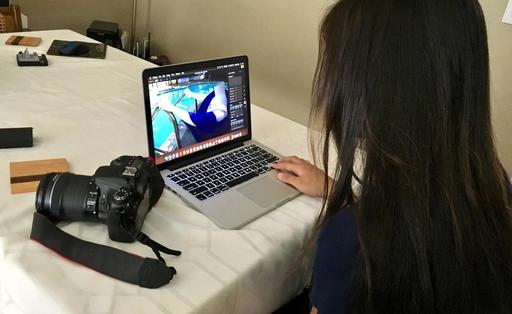 Lightroom - Pick your version - Excellent editing tools combined with a reasonable DAM, Lightroom has the largest support community with a bounty of how-to information and tips. Its cloud connectivity with mobile devices is excellent. And if you don't know what you need in an all purpose photo management app, this isn't a bad place to start. Good for pros and enthusiasts. Mac, Windows, iOS, and Android.

Capture One Pro - My favorite RAW decoder in this lineup. C1 is know for its excellent, photo-like image quality, but it's also a darn good DAM as well. If you don't care about cloud connectivity and can live with the higher price tag, this app is fantastic for serious RAW photography. Good for pros and enthusiasts. Mac and Windows.

Luminar-What started out as an innovative image editor for the Mac is now evolving into a full service application for Mac and Windows. The editing tools are outrageously good. A DAM is coming in 2018. And you can't beat the reasonable price tag. If I had to pick a dark horse contender to 2018, Luminar would be it. Good for enthusiasts and snapshooters. Mac and Windows.

Photos for macOS High Sierra - Although it still lives in the shadow of its predecessor Aperture, the third version of Photos is quite capable. Apple RAW decoding is excellent and is tied to the OS, not the Photos app. Performance is outstanding, as is iCloud sharing and backup. If you're an iPhone shooter, Photos is a no-brainer. But it's also a good fit for enthusiasts thanks in part to the excellent lineup of editing and output extensions. Good for enthusiasts and snapshooters. Mac and iOS.

Affinity Photo - If you want the power of Photoshop, but with a more modern UI and photographer emphasis, then Affinity is your app. Super powerful tools, great performance, good price, and a killer iOS app to boot. Good for pros and enthusiasts. Mac, Windows, and iOS.
Videoblocks - One Stop Downloading for video, audio, and images for your projects
Over the last month, I've had this ongoing conversation with a group called Storyblocks. They provide downloadable photography, video, and audio for creatives who need royalty free content for their projects. Considering that we have a community of visual artists here, I was interested in learning more.
For me personally, I'm more interested than ever in having additional movie and photo content available. As I record more video and stills with my Spark, there are gaps that I would love to fill. Footage for intros, transitions, and closing content that could augment what I've recorded.
Instead of just editing together a few clips, I could make a real movie. So I started exploring Videoblocks online library of royalty free content.
Two things happened as a result. First, there is a ton of great footage to augment my work. I'm really excited about this because I feel like this will move the ball forward for my projects. And second, the extensive library of content is also stirring my imagination for new creations. "What if I downloaded this footage here, then went and shot that, then combined them?"
This is the perfect time of year to explore Videoblocks. Take those great images and videos for your 2017 adventures, and elevate them to the next level.
Over the next few weeks, I'll be your tour guide for this site. But if you need content right now, you can join Videoblocks for $149 a year and gain access to great video, stills, and audio content. This is really a great idea...
New Benefit for TDS Inner Circle Members
Speaking of video:
Starting in December 2017, I have a great new benefit for TDS Inner Circle Members: Nimble Software Series. Each month I will post two training videos for our Inner Circle Members, covering Capture One Pro, Lightroom, Luminar, Photos for mac OS and more. Each video will run between 10 to 30 minutes, and will show you specific techniques for improving your images.
To become an Inner Circle Member, simple pledge $5 or more a month through the TDS Patreon program. Existing Inner Circle members are automatically enrolled in the Nimble Software Series, and receive their first two movies on Friday, December 1, 2017.
We have more benefits coming in 2018 for our Inner Circle Members. Join today and become part of the TDS Elite.
Updates and Such
Big thanks to all of our Patreon members!
B&H and Amazon tiles on www.thedigitalstory. If you click on them first, you're helping to support this podcast. And speaking of supporting this show, and big thanks to our Patreon Inner Circle members.
And finally, be sure to visit our friends at Red River Paper for all of your inkjet supply needs.
Texas-based Red River Paper recently announced a new fine art paper, Palo Duro Etching. The new paper is a 100 percent cotton rag paper and is free of optical brightener additives. The paper is designed to offer warm white tones, deep blacks and a subtle texture to accurately recreate traditional darkroom fine art prints.
See you next week!
More Ways to Participate
Want to share photos and talk with other members in our virtual camera club? Check out our Flickr Public Group. And from those images, I choose the TDS Member Photo of the Day.
Podcast Sponsors
Videoblocks - Go to videoblocks.com/digitalstory to get all the stock video, audio, and images that you can imagine for just $149. Save on millions of studio-quality clips, tracks, and graphics.
Red River Paper - Keep up with the world of inkjet printing, and win free paper, by liking Red River Paper on Facebook.
The Nimbleosity Report
Do you want to keep up with the best content from The Digital Story and The Nimble Photographer? Sign up for The Nimbleosity Report, and receive highlights twice-a-month in a single page newsletter. Be a part of our community!
Want to Comment on this Post?
You can share your thoughts at the TDS Facebook page, where I'll post this story for discussion.