Wireless charging is one of those technologies that I found myself asking, "OK, how hard is it really to plug a Lightning cable into my iPhone." The answer is, it's not that hard. By the same token, it's also not as convenient or fun as using the $25 Samsung Wireless Charging Pad.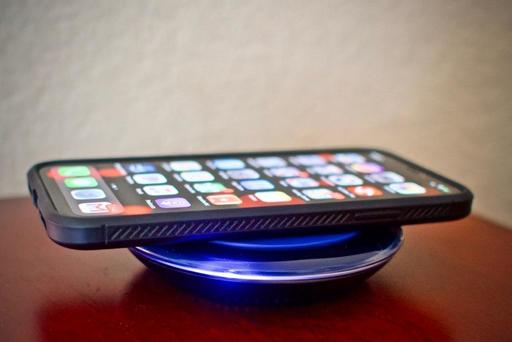 iPhone X with case charging on the Samsung Wireless Charging Pad. Photo by Derrick Story.
That's right, you can use the Samsung charger because it's a Qi-enabled device - the same technology that Apple is using for the iPhone 8, 8 Plus, and X. Standards are beautiful things. Up the road, Apple will have its own Qi charger. But until they do, iOS users can tap anything that adheres to the Qi specs.
Out of the box, the charging pad is about as easy as it gets. Plug it into an outlet and place the phone backside down on the surface. I left the phone's protective case on, and it didn't interfere with the refueling process. A blue light emits from the charger while it's active. When you lift the phone off the charging pad, the light goes off.
The charging rate seems reasonable, but I wouldn't call it blazing. I know it says "fast charging" on the box. But that's only for select Samsung devices. And even then, the speed is only 1.4X over normal charging. So if you're after truly fast charging, you should choose alternate approaches. But if you want convenience at an affordable price, this isn't a bad way to go.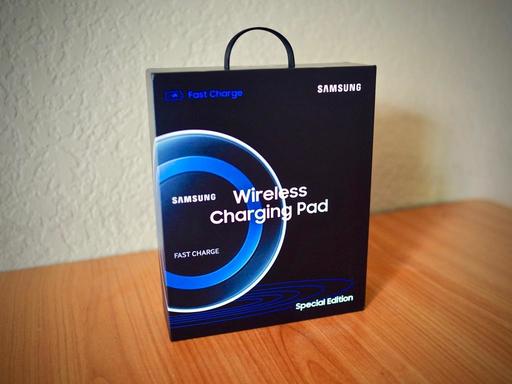 In my first test, I started at 35 percent full, put the iPhone X on the device for 90 minutes, and the phone's readout was 83 percent after an hour and a half. I checked it again at the 2-hour mark, and it was at 95 percent. Essentially, I was ready to roll after a couple hours on the charging pad.
During this process, I could pick it up, check messages, then set it back on the charger and let it continue refueling. I like this aspect a lot because it feels very natural. There are no cords to fool with. I'm just picking it up and setting it down.
I also tried a "top off" when I was in-between appointments. The iPhone was at 73 percent when I placed it on the charging pad and left it there for 30 minutes. When I picked it up, the capacity had increased to 85 percent. Again, not blazing, but reasonable and easy.
The charging pad is about the size of a drink coaster, but sits a little higher. The kit comes with the pad, a 3' cord, and a two-pronged wall socket adapter. It's handsomely designed and looks good on the table when not in use. And since it uses Qi technology, you can use the charging pad with a variety of devices, including the new AirPods wireless case when Apple releases it.
iPhone users do give up some speed in return for convenience. The Samsung charging pad takes longer than a high quality Lightning cable plugged into a wall charger. But in everyday use, it didn't seem like an issue.
The Samsung Wireless Charging Pad is an affordable entry into wireless charging for those with new iPhones who want to take advantage of this feature. Plus, it looks good sitting on the table. Just don't let anyone set their drink on it.
You can share your thoughts at the TDS Facebook page, where I'll post this story for discussion.