Now that the Apple Park Visitor Center is open to the public, I thought I'd take a look at this new state of the art facility in Cupertino, California.
The Apple Park Visitor Center. Photos by Derrick Story
The new facility is only about a 5-minute drive from the existing Apple campus. One of the advantages of Apple Park over the old campus is that there's full-fledged visitor center that's open to the public. It includes an augmented reality tour of the entire area, comprehensive product showcase, cafe/coffee shop, and rooftop dining area with a view of the spaceship-like main building.
The augmented reality tour of the campus. Lots of Apple staff on hand, easily spotted by their red shirts.
I recommend starting with the campus tour. After a short wait in line, you're handed an iPad and walked over to a giant model of the campus. The model is monotone gray with no detail. But when you point the iPad to any area, a real life image appears on the screen. This is the new age of architecture modeling. It's fun and impressive.
Point the iPad to any area of the model, and the campus comes to life on the screen.
In some instances, you can pinch upward on a building to lift its roof and peek inside. There are plenty of goodies and a few Easter eggs as well. Apple staff are on hand to share campus facts and assist with the tour. For example, What are the 3 ways that you can get inside Apple Park (beyond the Visitor Center)? 1) Become an employee, 2) Have an employee escort you in as a registered visitor, and 3) as a contractor working on a job for Apple.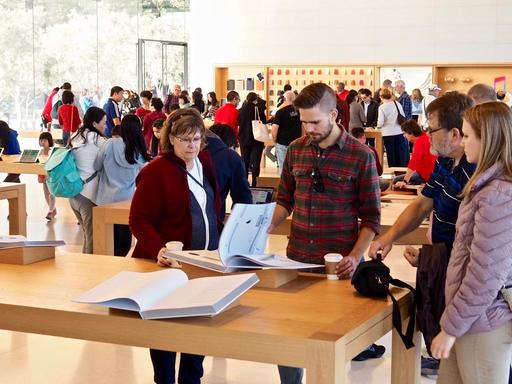 The product room features tons of Apple gear, old and new.
Next stop is the giant product room that features both current and past Apple gear. You can browse iPhones back a few generations, look at computers, headphones, iPads, and more. There are also Apple branded goodies such as T-shirts, hats, and postcards. It's a great place to hang out and explore consumer technology.
By this point you may be ready for a refreshment. The Cafe provides a variety of drinks and snacks that you order via a wandering staff member, much like an Apple Store. I asked for an Americano coffee drink. She entered my request, offered my paying options (I used Apple Pay with my watch), then a few minutes later, my name was called and I retrieved my drink.
The Cafe offers a variety of refreshments.
Last stop is the rooftop area that features tables to enjoy your refreshments augmented by a real view of Apple Park. The area is covered, so it's quite comfortable just to hang out, converse with your friends, and admire the view.
A rooftop view of Apple Park.
The Apple Park Visitor Center is a satisfying stop for those who enjoy Apple technology. As you would expect, friendly staff are on hand in every area to answer questions and help enhance your experience. There's lots to look at, the facility is impressive, and you'll learn plenty as well. And you can't beat the price... even parking is free.
You can share your thoughts at the TDS Facebook page, where I'll post this story for discussion.