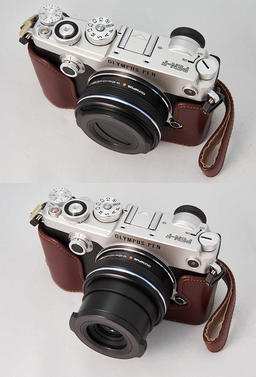 For the longest time, traveling light with an interchangeable lens camera meant working with a prime lens. But optical technology continues to improve, and now nimble photographers have a limited selection of zooms that are just as compact as their prime counterparts. Here are two fine examples.
The HD PENTAX DA 18-50mm f/4.0-5.6 DC WR RE ($297) and the Olympus M.Zuiko Digital ED 14-42mm f/3.5-5.6 EZ ($199) with accessory LC-37C Auto Open Lens Cap ($29) are as compact (or even more so) than most of their prime counterparts. Yet, these optics provide moderately wide to mild telephoto fields of view, making them excellent choices for photographers on the go who want to travel light.
I took both of these optics out for a spin one Sunday morning. No other lenses were with me, so it would be make or break with these zooms. I used a Pentax KP DSLR ($896) and an Olympus PEN-F ($1,199) mirrorless as my camera bodies. Both of these are compact in their own right, and are perfect hosts for these optics.
"Mustard in Vineyard" - Pentax KP DSLR with HD PENTAX DA 18-50mm f/4.0-5.6 DC WR RE captured in Program mode as a DNG. Photo by Derrick Story.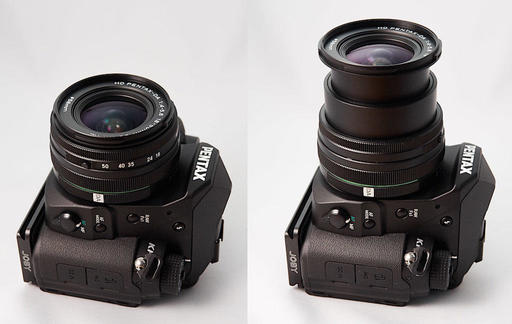 The Pentax compact zoom was released a couple years ago. It received mixed reviews from users, not so much for its optical performance, but because of its usability. You have to press a button on the left side of the lens, then rotate the collar before you can take a picture. At first, this seems a little cumbersome. But I figured out that there's a grip on the opposite side of the collar for the opposing finger. Once you hold it according to design, the lens opens right up.
As for image quality, I was really impressed. Colors are tremendous. I didn't use any filtration for these images. They were sharp and saturated at capture. On close inspection, center sharpness was excellent, and edge sharpness was very good. Focusing is extremely fast. The lens is very light because of its plastic body. Some users prefer metal. But its this very design that makes it as light as it is compact. In short, this is a wonderful optic for outdoor use, perfect for travelers and those who want a compact DSLR package.
"Victims of the Tubbs Fire" - Pentax KP DSLR with HD PENTAX DA 18-50mm f/4.0-5.6 DC WR RE captured in Program mode as a DNG. Photo by Derrick Story.
The Olympus kit performed well also. Because it is a micro four third body and lacks a mirror, it's even more compact than the Pentax KP. If you don't mind an electronic viewfinder instead of an optical version, you can save even more room with this package.

Olympus PEN-F with Olympus M.Zuiko Digital ED 14-42mm f/3.5-5.6 EZ.
In fact, this pancake zoom is more compact than most prime lenses for micro four thirds. One of its clever tricks is that it auto extends when you power up the camera. If you add the accessory LC-37C Auto Open Lens Cap, then it's ready to shoot in a second. This combination is particularly effective for street photography and travel. You can stash the PEN-F in a jacket pocket while exploring, but be ready to shoot in just a second or two. Image quality is very good, again with a little tradeoff on the edges.
The Bottom Line
Both of these optics have a high nimbleosity rating and are excellent performers as well. Street photographers and urban travelers would appreciate the convenience of the PEN-F kit. Those who love the visual beauty of an optical viewfinder can travel light as well with the Pentax KP kit. And if landscape photography is your thing, this DSLR is hard to beat.
We're no longer limited to prime lenses for compact, lightweight travel shooting. These zooms, and others like them, are truly game-changers.
You can share your thoughts at the TDS Facebook page, where I'll post this story for discussion.