This is The Digital Story Podcast #622, Feb. 13, 2018. Today's theme is "A Personal Photo Essay." I'm Derrick Story.
Opening Monologue
Some of the most interesting photo essays that I've seen over the years are those where the photographer is allowed inside someone's life in their home. It's fascinating to peer behind the curtain of their life, and think about how it compares to mine. But what if we told our own story, from our personal point of view? I talk about this project that anyone can do, with any camera, on this week's photography podcast.
A Personal Photo Essay
This all started one afternoon when I was writing in the main room of my studio. The winter light was streaming in from the big window facing south, and it illumined a work table where I had some of my things.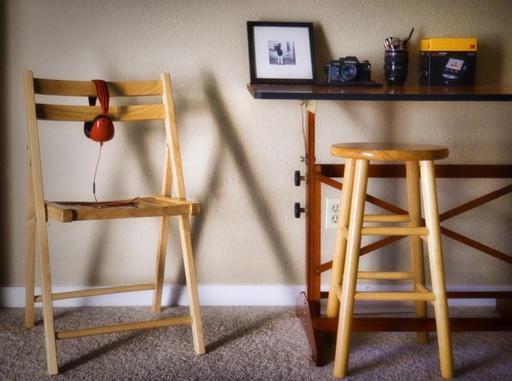 As I looked at the scene, I thought, this one picture says a lot about my interests. There were a pair of red headphones hanging on the chair, a B&W print on the table, a Contax film camera, pens in a fake lens cup, and a Kodak scanner that I'll be reviewing soon.
Wouldn't it be fun to do a photo essay on a day in my life here? I would take pictures of the kitchen (where I spend too much time), Dibs, Studio A, Studio B, my washer that doesn't fit quite right in the laundry room, backdrops hung over the balcony rail upstairs, and on and on.
Imagine someone finding this photo essay years later? They would learn so much about me. And even on a practical level, many of these images would be helpful for insurance claims if something bad happened here in the near future.
So here are five tips that I have to help encourage you to endeavor your own personal photo essay.
Look for scenes that really represent you - Your clothes hanging in the closet, your workroom, the car outside.

Tidy, but don't over organize. Since it's a photo essay, we do want the images to look good. But don't over organize losing the soul and personality of the scene.

Keep it to 36 exposures. I think 36 is a magic number here. It's a roll of 35mm film, a nice length for a slideshow, enough to tell the story, not so many that it becomes boring.

Write captions for the shots. Images do say a lot, but a few additional words say even more.

Finish the project. Build a slideshow, create a gallery that's saved as PDF, etc. Part of the beauty of this project is that it can be shared, discovered, and viewed.
New! TheFilmCameraProject on Instagram
I've started a new Instagram feed just for film camera lovers. It's called TheFilmCameraProject, and it's for those who appreciate the beauty of analog SLRs.
And to celebrate the launch, I'm giving away one Pentax SLR and lens to one lucky follower of TheFilmCameraProject. All you have to do is follow the feed by Feb. 28, 2018. I'll then do a random drawing and announce the winner on the March 6 podcast. Join in the fun, and get to admire some really beautiful camera along the way.
LRTimelapse 5 Is Here With Many Improvements and Additional Features
LRTimelapse is without a doubt the best piece of software to manage extreme day-to-night and night-to-day transition when capturing a time-lapse sequence. This flicker remover program changed the industry for good and a new version with many improvements has just been announcement by its creator. Here is what you need to know about it.
LRTimelapse 5 is a big upgrade from version 4 but the workflow remains similar. The first thing you'll notice on LRT5 is the polished user interface. The buttons and icons look nicer and the interface is completely scalable for high-resolution monitors. Seasoned LRTimelapse users won't be lost but everything is better and faster thanks to the optimization and improved use of multithreading platforms. The program can now handle up to 32 threads.
The San Francisco Street Photography Workshop Update
Reservation forms have been sent to Reserve List members. If you signed up on the Reserve List, but didn't receive an invite, please email me.
San Francisco Street Photography - April 26-28, 2018 - We'll work entirely on location in San Francisco. Our hotel in picturesque Union Square will serve as our headquarters during the event. No rental car will be necessary. We'll explore the City's hidden treasures and capture them through our lenses. As always, we're adding new shooting locations again this year, including twilight assignments. This is San Francisco like you've never seen it before. And as a bonus, Olympus Visionary Mike Boening will be joining the teaching staff and leading sessions on street shooting and night photography. Two instructors, three days, and all for just $695. (That's right, it's 3 full days in one of the most photogenic cities in the U.S.)
Updates and Such
I now have the dates for the Sonoma Country Hot Air Balloon and Drone Photography Workshop, June 8-10, 2018. We're combining two very fun aerial activities into one workshop. Be sure to get on the Reserve List for this one!
The latest training videos posted for our Inner Circle members are processing aerial photographs in Luminar and using Lightroom for time-lapse photography.
You can become a member of our Inner Circle by clicking on this link or by clicking on the Patreon tile that's on every page of The Digital Story.
B&H and Amazon tiles on www.thedigitalstory. If you click on them first, you're helping to support this podcast. And speaking of supporting this show, and big thanks to our Patreon Inner Circle members:
And finally, be sure to visit our friends at Red River Paper for all of your inkjet supply needs.
See you next week!
More Ways to Participate
Want to share photos and talk with other members in our virtual camera club? Check out our Flickr Public Group. And from those images, I choose the TDS Member Photo of the Day.
Podcast Sponsors
Videoblocks - Go to videoblocks.com/digitalstory to get all the stock video, audio, and images that you can imagine for just $149. Save on millions of studio-quality clips, tracks, and graphics.
Red River Paper - Keep up with the world of inkjet printing, and win free paper, by liking Red River Paper on Facebook.
The Nimbleosity Report
Do you want to keep up with the best content from The Digital Story and The Nimble Photographer? Sign up for The Nimbleosity Report, and receive highlights twice-a-month in a single page newsletter. Be a part of our community!
Want to Comment on this Post?
You can share your thoughts at the TDS Facebook page, where I'll post this story for discussion.