I like families with colorful members. Apparently, Kingston does as well. They've recently announced a flashy new trio of memory cards using the Canvas moniker. And I've had a chance to try them out.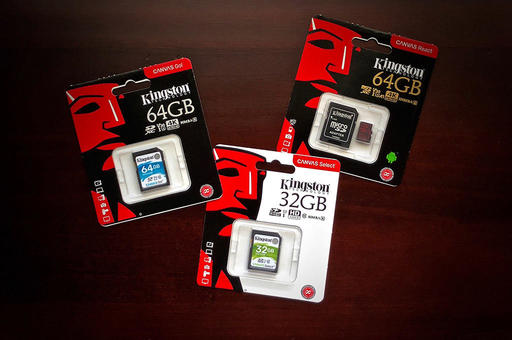 All three family members are built tough. They feel good when inserting and ejecting from the camera. The Write Protect switch is firm and won't accidentally disable your card. This is a frustration I've experienced too many times with other brands.
The real difference among the models is speed. Canvas Select cards, the most affordable, are rated 80MB/s read and 10MB/s write. Canvas Go cards are 90MB/s read and 45MB/s write. While the top of the line Canvas React cards are 100MB/s read and 80MB/s write.
You can preorder a 64GB SDXC Canvas React for $34.95, a very reasonable price for a card of this caliber. And if your speed needs are more modest, you can save money with the 64GB Canvas Select for $26.50. Card capacities range from 16GBs to 256GBs. You can visit the Kingston site for more details about each family member.
I'm using the Canvas Select in the Olympus Tough TG-5, and the Canvas React in the Olympus OM-D E-M1 Mark II. It feels good to have fresh memory cards in them both.
You can share your thoughts at the TDS Facebook page, where I'll post this story for discussion.